Finał 3. edycji konkursu "KUKBUK Poleca" z kolejnym rekordem - ponad 800 nadesłanych produktów od 270 lokalnych firm! Jury nagrodziło 27 z nich.
4 czerwca 2019
W piątek, 31 maja w Fortecy Kręglickich w Warszawie odbyła się uroczysta gala wieńcząca 3. edycję konkursu KUKBUK Poleca. Celem programu jest dotarcie i wyróżnienie inicjatyw kulinarnych, rzemieślniczych oraz niebanalnych gospodarstw agroturystycznych, dla których najważniejsza jest jakość. Z ponad 800 nadesłanych do redakcji KUKBUK-a produktów od 270 lokalnych firm, jury w składzie: Daria Pawlewska, Oliwia Gede-Niewiadomska, Lara Gessler, Laurent De Bremaeker, Agnieszka Saternus, Barbara Iwanicka, Piotr "Vienio" Więcławski, David Gaboriaud, Grażyna Lambach, Alina Szyrle oraz Anna Nowak-Ibisz, wyłoniło 27 najlepszych, którzy otrzymali roczny certyfikat jakości "KUKBUK Poleca" i statuetkę – złote jajo.
Nagrody zostały przyznane w ośmiu kategoriach: z pola i wody (produkty świeże, nieprzetworzone), ze spiżarni (produkty przetworzone), w płynie z procentami (napoje alkoholowe), w płynie bez procentów (napoje bezalkoholowe), z warsztatu (rzemiosło), dla urody (kosmetyki ekologiczne), za miastem dla relaksu (agroturystyka) oraz Polska Smakuje (nagroda specjalna partnera konkursu – Krajowego Ośrodka Wsparcia Rolnictwa). Trzy marki otrzymały wyróżnienia.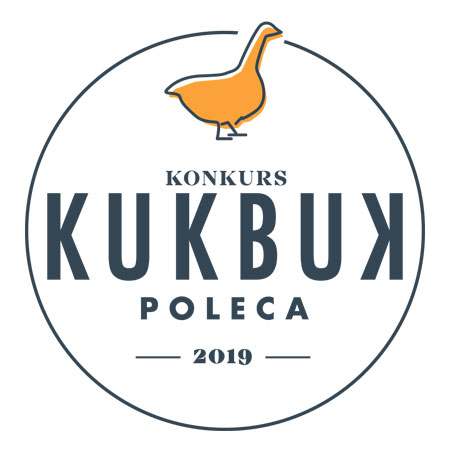 Wśród zwycięzców znaleźli się: w kategorii z pola i z wody – Ekologiczne Grzyby z Dąbrówki, Agrar Magnice, SIE.JEMY, Boucherie de Varsovie oraz Antonius Caviar, w kategorii ze spiżarni – SMAK NATURY Marek Hałat, Studio Kulinarne Devaldano, Cytrynowe Królowe, Sosta i Hummus Amamamusi, w kategorii z warsztatu – Mosko Ceramics, Alpakino i Paper Goods Design, w kategorii w płynie
z procentami – Augustowska Miodosytnia, Cydr Chyliczki i Nalewki Staropolskie, w kategorii w płynie bez procentów – Rezerwat Jabłek, Sad Zaścianki i Dary Natury, w kategorii dla urody – Szmaragdowe Żuki i Jan Barba, w kategorii za miastem dla relaksu – Dom nad Wierzbami oraz Weranda Home,
i w kategorii specjalnej KOWR Polska Smakuje – Tree Nuts. Wyróżnienia otrzymały marki: Hagi Cosmetics, Lush Botanicals i Bracia Sadownicy, którzy dodatkowo zostali nagrodzeni przez partnera technologicznego konkursu - LG Electronics Polska nowoczesną lodówko-zamrażarką.
Certyfikat KUKBUK Poleca jest symbolem uczciwego i sprawdzonego produktu/miejsca najwyższej jakości. Zostaje przyznany na rok, co oznacza, że wyróżnieni producenci mogą się nim legitymować do połowy 2020 roku. Całoroczna jest również promocja redakcyjna wszystkich laureatów. Ich sylwetki, szczegółowe opisy marek, działalności i produktów będą publikowane we wszystkich kanałach należących do platformy KUKBUK.
"Jesteśmy bardzo szczęśliwi, że z roku na rok jest coraz więcej firm, które produkują prawdziwe jedzenie, bez ściemy i sztucznych dodatków. Przy ocenie bardzo ważna jest dla nas jakość, dokładnie analizujemy składy, ale nie tylko. Zwracamy też uwagę na kwestie związane z ochroną środowiska
i różne niuanse, jak np. przemyślane opakowanie czy nieoczywista, ale praktyczna forma produktu. Chcemy promować to co lokalne, sezonowe, polskie i wyróżniać tych, którzy z dbałością, zaangażowaniem, w poszanowaniu natury i często własnymi rękoma to wytwarzają. "Made in Poland" to silna marka, z której możemy być naprawdę dumni. Marzę, aby te nasze dobra były w zasięgu każdego. Dlatego już od 3 lat w konkursie KUKBUK Poleca niestrudzenie szukamy najlepszych i dzielimy się z naszymi czytelnikami efektami tych poszukiwań. Niech to co dobre idzie dalej
w świat! – mówi Daria Pawlewska, redaktorka naczelna i wydawczyni magazynu kulturalno-kulinarnego KUKBUK.
"Skala konkursu KUKBUK Poleca i jego wysoki poziom pozytywnie mnie zaskoczyły. Udział w tym projekcie to dla mnie bardzo inspirujące doświadczenie, bo dzięki niemu poznałam wiele marek
i produktów, nie tylko spożywczych, o których nigdy wcześniej nie słyszałam, a autentycznie mnie zachwyciły. Fantastyczne jest to, że KUKBUK odkrywa takie perełki i że dzięki temu może się o nich dowiedzieć szersza publiczność. – dodaje Lara Gessler, restauratorka i członkini jury konkursu KUKBUK Poleca.