Kuchnia tajska
Kuchnie świata
Tajlandia od dawna kusi swoim pięknem i zjawiskowością. Kultura tego kraju łączy w sobie dwie ważne reguły filozofii życia - przyjemność i harmonię, co ma również swoje odzwierciedlenie w kuchni tajskiej. Duży wpływ na rozwój Tajlandii miały też sąsiednie kraje. Chiny, Laos, Birma czy Indie wniosły do tajskiego świata swoje smaki i zasady sztuki kulinarnej.
Mimo oddziaływania innych kultur, mistrzowie tajskiej kuchni wykształcili własne reguły komponowania posiłków. Główną jest zasada pięciu smaków i według niej powstaje niemalże każda tajska potrawa. Dania powinny mieć w sobie ostrość, słodycz, gorycz, kwaśność i słoność. Ta zasada nawiązuje do zasady harmonii uznanej przez Tajów za istotę udanego i spełnionego życia. Pojęcie kuchni tajskiej nie ogranicza się tylko do Tajlandii. Należy zaznaczyć, że duża cześć plemion tajskich zamieszkuje też Wietnam i Laos, gdzie również kultywowany jest dorobek tajskich przodków.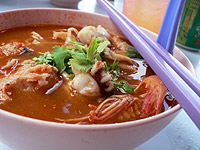 Kuchnia tajska jest dosyć specyficzna i w dużej mierze bazuje na naturalnym bogactwie przypraw i ziół. Jest też zróżnicowana pod względem produktów i składników używanych w danym regionie. Wyróżnia się północną, północno-wschodnią, południową i centralną Tajlandię. Dania południowe bazują głównie na mleku kokosowym i owocach morza, które mieszkańcom z północy kraju są obce. Ci natomiast, rozsmakowali się w łagodnych daniach na bazie mięsa wieprzowego i delikatnych warzyw. Najostrzejszą kuchnią jest kuchnia północno-wschodnia, która charakteryzuje się dużą zawartością chilii i wyrazistych przypraw. Popularnym daniem w tym regionie jest larb czyli pikantna sałatka z mięsem, cebulą, chili, czy tom saep - pikantno - kwaśna zupa.
Niezależnie od regionu, jako główne danie zawsze serwowany jest ryż, a do niego rozmaite dodatki. Najbardziej popularnym jest ryż jaśminowy - bardzo aromatyczny i delikatny. Wszelkie dodatki mięsne czy rybne podawane do ryżu są wzbogacane aromatycznymi przyprawami i ziołami. Te ostatnie mogą być zarówno świeże, suszone lub mielone. Dzięki nim dania stają się bardziej intensywne w smaku, kolorze, zapachu i mocniej oddziałują na zmysły. Tajowie wierzą również w zdrowotne znaczenie wszelkich ziół, które maja leczyć nie tylko ciało, ale i duszę. Wyznają, podobnie jak Chińczycy, filozofię Yin i Yang, czyli zasadę harmonii we wszechświecie i stosują ją również w kuchni.
Oprócz wspaniałych przypraw, kuchnię tajską wyróżnia szereg metod i sposobów przyrządzania jedzenia, opracowywanych przez wieki przez tutejszych mistrzów kuchni. Dawniej do gotowania nie używano żadnych metalowych naczyń, a te były zastępowane glinianymi. W miarę rozwoju kultury i sztuki kulinarnej w kuchni tajskiej i wpływów innych kuchni zaczęły pojawiać się woki czy naczynia do gotowania na parze, które są również popularne w innych kuchniach azjatyckich. Wiele kuchenny przyrządów pojawiło się też za sprawą państw zachodnich i rozwijającego się handlu miedzynarodowego.
W kuchni tajskiej zachowało się wiele starodawnych metod przygotowania jedzenia. Jedną z nich jest np. grillowanie warzyw czy mięs, oraz owoców morza, najczęściej krewetek, a zwłaszcza krewetek tygrysich – bardzo popularnych w Tajlandii. Podaje się je z obowiązkowym ryżem lub jako przekąskę ze słodko - kwaśnym sosem.
W Tajlandii niezwykle popularne są wytrawne sałatki - yam, przyrządzane według tajskiej receptury. Są one lekkostrawne, a używane do nich sosy nie zawierają tłuszczu. Wszelkie tajskie sałatki niezależnie od tego, czy będzie to sałatka krewetkowa czy wieprzowa, skrapiane są sosami tajskimi np. sojowym, rybnym czy po prostu sokiem z limonki. Dzięki temu sałata ma wytrawny smak i jest dietetyczna. Oczywiście dodawane są do nich naturalne przyprawy oraz bardzo często beztłuszcowy i pozbawiony cholesterolu makaron ryżowy. Tajowie wyspecjalizowali się również w metodzie szybkiego smażenia wielu potraw. Smaży się warzywa, czosnek, grzybki, czy ser tofu. Ten spsób został przez nich podpatrzony i zaadaptowana od Chińczyków. Dzięki niej tłuszcz nie wsiąka w głąb dania, a potrawa jest chrupiąca na zewnątrz i soczysta w środku. Dotyczy to zarówno warzyw jak i mięs.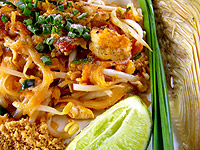 W stolicy Tajlandii - Bangkogu, najlepiej widać zróżnicowanie kuchni tajskiej. Niemalże wszędzie można spotkać drobne stragany, bary oraz ekskluzywne restauracje serwujące swoje specjały. Do najczęściej spotykanych i najbardziej charakterystycznych dań tajskich zalicza się pad thai, czyli makaron ryżowy smażony z rybą, cukrem, orzechami i sokiem z limonki. Często serwuje się również smażony ryż z dodatkiem pasty krewetkowej, wieprzowiny i warzyw – danie nosi nazwę khao khluk kapi.
Wiele z dań tajskich wywodzi się z tradycji i sztuki eleganckiego serwowania i przystrajania potraw np.: kwiatami lub pięknie wycinanymi, wręcz rzeźbionymi warzywami. Jest to tzw. nurt kuchni pałacowej. Tak misternie przygotowane potrawy nadal wywołują zazdrość mistrzów kuchni z zachodu.
Kuchnia tajska przez swoją świeżość i charakterystyczny smak zdobyła swoich fanów również na innych kontynentach. Niezwykle rozsmakowali się w niej Amerykanie i Australijczycy. Wiele restauracji z tego typu jedzeniem powstaje również w Europie. Zapraszamy również do grona jej wielbicieli, zwłaszcza ze względu na jej lekkość i niesamowity smak. Zamiłowanie Tajów do higieny spożywania posiłków i walorów zdrowotnych przygotowanej przez nich żywności to kolejna zaleta tego królestwa smaku.