Późne lato to doskonały czas na domowe przetwory. Na straganach pełno jest dorodnych owoców i warzyw. Nic, tylko wekować słoiki i nastawiać nalewki. Te ostatnie można robić z niemal wszystkich owoców - zarówno gruszek, wiśni, jeżyn i śliwek, jak i jarzębiny, czarnego bzu czy derenia. Warto zadać sobie nieco trudu, by w długie, zimowe wieczory rozkoszować się smakiem własnoręcznie przygotowanej nalewki i poczuć przyjemne ciepło, rozlewające się po całym ciele.
Historia nalewek
Wyrobem nalewek parano się już w starożytności. Oczywiście bazowano wtedy nie na wódce lub spirytusie, lecz na miodzie pitnym i winie. Z biegiem lat i wraz z rozpowszechnieniem receptury produkcji spirytusu zaczęto rozmaite eksperymenty alkoholowe. Tak też zaczęły powstawać nalewki i likiery o przeróżnych smakach i właściwościach. Szczególnie popularne były trunki na bazie spirytusu z dodatkiem ziół, które uznano za medykament i specyfik pomocny w leczeniu. W Polsce zwyczaj picia nalewek, czy też kordiałów (tak nazywano mocne trunki wspomagające serce) zapoczątkowała szlachta, która rozkochała się w tych napitkach. To właśnie w dworach szlacheckich powstawały receptury - bezcenna baza nalewek, jakie pijamy również dzisiaj. Nalewki były bardzo popularne na ziemiach polskich i na Kresach. Obecnie wiele domów szczyci się własnymi tego typu napojami o rozmaitych smakach, a każda gospodyni, przyrządzająca te szlachetne trunki, posiada swój sekret, który czyni każdą z jej nalewek wyjątkową. Należy zaznaczyć, że bardzo trudno jest zrobić drugi raz taką samą nalewkę. Doskonałym źródłem stanowiącym zbiór przepisów na nalewki i likiery przyrządzane w Polsce XIX wiecznej jest książka słynnej gospodyni oraz autorki wielu książek kulinarnych Lucyny Ćwierczakiewiczowej - Jedyne praktyczne przepisy.
Trunki zakonne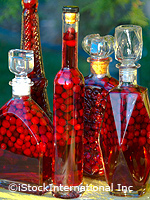 W innych regionach Europy, częściej niż w Polsce pija się gęste słodkie likiery. Są to słodkie, pokrewne wariacje nalewek, mające bardziej kleistą, gęstą konsystencję, ale równie wysoką zawartość alkoholu. W produkcji trunków na bazie spirytusu specjalizują się zakonnicy, którzy oprócz charakterystycznych dla danego zakonu nalewek, produkują miody pitne, likiery, piwa, a nawet wina (np. mnisi węgierscy). Ze swoich trunków znani są m.in. francuscy benedyktyni czy karmelici bosi. Ci pierwsi zasłynęli z ziołowego likieru Benedictine i taką samą nazwę nosi trunek przyrządzany przez ten sam zakon w Polsce. Słynnym wyrobem zakonnym, pochodzącym również z Francji, jest likier wytwarzany przez kartuzów - Le Grande Chartreuse. W Polsce nalewki i inne wyroby zakonne produkowane są także przez większych wytwórców spożywczo - alkoholowych, a później tylko firmowane nazwą danego zakonu oraz odpowiednim stemplem. Takie produkty zdobywają coraz większą popularność. Bardzo znane są wyroby sygnowane przez cystersów czy benedyktynów.
Czym jest nalewka?
Spróbujmy odpowiedzieć na pytanie - czym jest nalewka? To trunek mający na ogół od 40% do 45 % zawartości alkoholu, powstający na bazie spirytusu wysokiej jakości z domieszką przeróżnych składników. W dawnej Polsce nalewki miały nawet 70% alkoholu. Rozróżniamy nalewki owocowe, ziołowe, korzenne i kwiatowe. Te znowu dzielą się na słodkie, czyli mające charakter likieru, którym należy się delektować i spożywać powoli oraz wytrawne, które wypijamy jednym haustem, a podawać je należy do pikantnych potraw lub przed spożywanym posiłkiem. Polska szlachta przypisywała nalewkom rozmaite właściwości leczenia wielu schorzeń lub też stosowała je profilaktycznie. I tak np.: jarzębinówkę spożywano na dolegliwości żołądkowe i jelitowe, nalewkę głogową zażywano przy problemach z sercem, nalewkę malinową przy przeziębieniu, a nalewkę z bursztynu przy bólu głowy.
Prosta receptura...?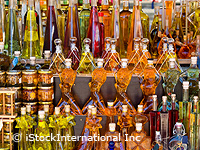 Największym sekretem doskonałej nalewki jest jej długi okres leżakowania - minimum 3 miesiące. Drugą tajemnicą receptury są użyte doń najwyższej jakości produkty, a szczególnie tyczy się to owoców i przypraw. Te pierwsze muszą być dojrzale, a drugie świeże i nie zwietrzałe. Nie wspominamy już o spirytusie, który musi być rektyfikowany i zakupiony w godnym zaufania sklepie. Nalewki można przyrządzać o każdej porze roku, gdyż tak naprawdę nawet owoce sezonowe np. czereśnie, wiśnie czy jarzębinę, można zamrozić i z takich przygotowywać trunki. Pamiętajmy, że owoce muszą być dojrzałe i zdrowe. Ogólną zasadą przyrządzania nalewki jest łączenie czystego spirytusu z wódką, a następnie rozcieńczenie alkoholu wodą tak, aby uzyskać maksymalnie 65% alkohol. Do naczynia, w którym sporządzamy trunek wrzucamy owoce do 3/4 objętości naczynia i zalewamy je alkoholem tak, aby dokładnie je pokrył. W ten sposób powstaje nalewka wytrawna, która leżakuje kilka tygodni. Następnie należy ją zlać do butelek. Jeśli zaś chcemy uzyskać nalewkę słodką to wytrawnym nalewem napełniamy butelki, a owoce, które pozostały zasypujemy cukrem lub miodem. Odstawiamy je na kilka tygodni, a uzyskany syrop łączymy z nalewką wytrawną. Oczywiście należy wziąć pod uwagę fakt, że każda nalewka ma swoje proporcje i recepturę.
Na co zwracać uwagę przy przyrządzaniu nalewki?
Należy używać składników najwyższej jakości, bez względu na to czy jest to spirytus, owoce czy przyprawy.


Naczynia, w których przygotujemy nalewki, muszą być sterylnie czyste.


Owoce z pestkami drylujemy, kwas pruski, który wydziela się z pestek np. wiśni, może okazać się trucizną.


Jeśli jesteśmy cierpliwi, odczekajmy jak najdłużej z otwarciem butelki z przygotowaną nalewką – najlepiej 3-4 lata. Nalewki są jak wino - im starsze, tym lepsze.


Sprawdzamy, z jakich rejonów pochodzą owoce czy też zioła, z których chcemy przyrządzić nalew. Muszą być one zdrowe i świeże.


Zanim przelejemy nalewkę do butelek, aby dalej leżakowała, należy ją przefiltrować i pozbawić mętnego osadu.


Nalewki trzymamy w miejscu chłodnym i ciemnym, zaś najlepiej w ciemnych butelkach, aby chronić zawartość przed utlenieniem.


Jeśli nie chcemy bawić się w staropolskie zwyczaje i przygotowywać własnych trunków, to w polskich sklepach dostępne są gotowe nalewki – równie doskonałe jakościowo. Najlepsze są te produkowane na małą skalę, natomiast wyroby masowe nie są zazwyczaj godne miana nalewki. Szukajmy zatem produktów prawdziwie polskich, np. rekomendowanych przez stowarzyszenie dbające o dobry smak, czyli Slow Food Polska lub też wyrobów firmowanych stemplem wybranego zakonu. W wielu sklepach można znaleźć prawdziwe nalewki, produkowane przez zakonników np: benedyktyńskie. Jest to produkt dość kosztowny, ale warto od czasu do czasu rozpieścić podniebienie. Niemniej jednak przygotowanie takiego trunku osobiście to nie lada przyjemność, a później powód do dumy.