Jamie ratuje brytyjski bekon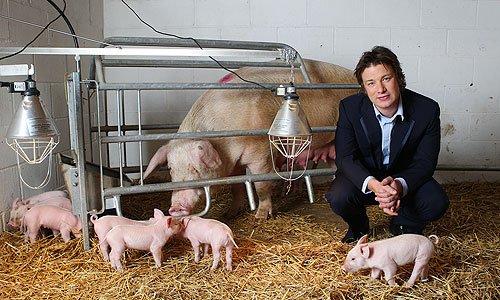 ---
(Jamie saves our bacon), film dokumentalny, Wlk. Brytania, 2009, 90
Jamie Oliver rozprawił się już ze sprawą biednych kurczaków w programie "Jamie, kolacja i kurczaki". W swoim kolejnym show chce zwrócić uwagę widzów na warunki życia trzody chlewnej. W programie nie przebiera w środkach. Uważa, że osoby, które jedzą tanią wieprzowinę mają pełne prawo, a nawet obowiązek wiedzieć, w jaki sposób zwierzęta są traktowane przez producentów żywności.
Jamie Oliver zaprosił do studia, wystylizowanego na ekskluzywną londyńską restaurację gości. Jednak to co, zamierza im pokazać nie będzie miłe. Będzie szokował i zniechęcał, po to, aby widownia w studio i widzowie przed telewizorami, mieli świadomość, jaką drogę pokonuje mięso wieprzowe zanim trafi na nasze talerze. Nie obejdzie się bez pokazania brutalnych szczegółów - wszystko po to, aby po obejrzeniu "Jamie ratuje brytyjski bekon" widzowie stojąc przed chłodnią w sklepie mięsnym mogli dokonywać w pełni świadomych wyborów. W studiu, specjalnie na użytek programu, została odtworzona zagroda, w której znalazły się żywe zwierzęta, w tym maciora, która ma w trakcie programu wydać na świat swoje potomstwo.

Spotkanie z publicznością było jednym z ostatnich etapów realizacji projektu, wcześniej Jamie udał się w podróż po Europie, aby sprawdzić i udokumentować warunki w jakich hodowana jest trzoda chlewna. Widzowie zobaczą w programie zdjęcia z tej wstrząsającej podróży.

Oliver uważa, że jeśli zmieni to nawyki konsumpcyjne choćby 5% Brytyjczyków, warto jest zrealizować tak trudny i kontrowersyjny program. Ponadto zachęca do wspierania lokalnych hodowców i pokazuje, ze nie ma powodów, aby kupować importowaną wieprzowinę.

Jamie Oliver znany przede wszystkim z wielu programów kulinarnych, w których zachęcał widzów do odkrycia swoich kuchni na nowo oraz założenia własnego warzywnego ogródka. Prowadzi także programy z misją. Jamie Oliver jest zdobywcą nagrody BAFTA oraz innych prestiżowych wyróżnień.
Dołącz do CANAL+ i oglądaj
jak chcesz i kiedy chcesz!