To pochodzące z rodziny bobowatych warzywo jest obecnie jednym z najbardziej popularnych i najczęściej uprawianych warzyw strączkowych na świecie. Groch stał się warzywem pospolitym i łatwo dostępnym. Jednak mało kto wie jak długa jest historia jego uprawy oraz zastosowania w kulinariach.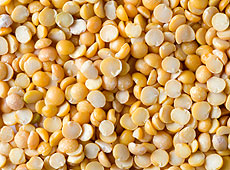 Groch jest jedną z najstarszych roślin uprawianych przez człowieka. Jego nasiona znaleziono na stanowiskach archeologicznych datowanych na VIII tysiąclecie p.n.e. Tak jak wszystkie rośliny z rodziny bobowatych, czyli fasola, bób, soczewica czy ciecierzyca, groch trafił do Europy z Bliskiego Wschodu. Była to roślina dziko rosnąca, którą doceniono ze względu na małe wymagania oraz łatwość w przetwarzaniu. Dodatkową zaletą ziaren grochu jest to, że można je długo przechowywać. Początkowo groch stosowano jako element paszy dla zwierząt, z czasem ludzie zaczęli wprowadzać go również do swojego menu. Około V wieku p.n.e. groch zaczęto uprawiać w Egipcie, gdzie szybko stał się podstawą diety przedstawicieli niższych klas społecznych. Podobnie sytuacja przedstawiała się w starożytnej Grecji i Rzymie. Groch miał również znaczenie symboliczne. W Grecji, gdy w rodzinie pojawiało się dziecko, rozrzucano wokół niego ziarna grochu, sól i ziarna zbóż, aby przywołać duchy opiekuńcze. Warzywo to cenione było również ze względu na właściwości lecznicze, a także upiększające. W starożytnym Rzymie z grochu, miodu i jaj przygotowywano krem odmładzający. Około 2000 lat p.n.e. wiedza na temat uprawy grochu dotarła także do Indii oraz Chin. Z czasem to dość niepozorne warzywo przyjęło się w innych rejonach świata.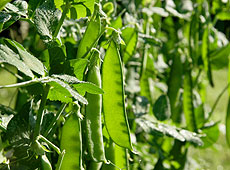 Dawniej w kulinariach wykorzystywano tylko groch dojrzały – twardy, mączysty, o barwie słomkowej. Młody groch, czyli groszek zielony, oraz groszek cukrowy - krewniak grochu zwyczajnego, który spożywa się wraz ze strączkiem, zaczął być wykorzystywany w przepisach dopiero na przełomie XVI i XVII wieku. Jako pierwsi grochu w formie niedojrzałej używali Francuzi, a później Anglicy. Zaistniała nowa kulinarna zasada "mange tout", czyli zjadaj wszystko. Od tej pory młode strączki groszku cukrowego oraz młode ziarna grochu zwyczajnego trafiły na stoły zamożnych jako nowa moda kulinarna, postrzegana przez niektórych jako czyste szaleństwo. Sceptycznie nastawieni bardzo się mylili, gdyż obecnie wiadomo, że zarówno groch cukrowy, jak i słodki młody groszek zielony to bogate źródła witamin: E, K, B1, B2, B6, C oraz substancji odżywczych i mineralnych jak: sód, potas, magnez, fluor, żelazo. Zielony groszek jest jednak nietrwały i nie można go magazynować w formie niezmienionej, tak jak jest to w przypadku grochu suchego, dlatego też szukano sposobów na przedłużenie jego trwałości. Postęp w przetwórstwie i przechowywaniu żywności przyniósł pożądane rozwiązanie. Odkryto, że groszek można konserwować. Pierwsze próby konserwowania groszku, które przeprowadzono w XIX wieku, pozwalały przedłużyć jego trwałość. Powstał jednak problem, gdyż groszek zmieniał swój kolor na brunatny, a dodatkowo tracił substancje odżywcze. Szukano nowych sposobów na to, aby zielony groszek zachować w formie wyjściowej, niezmienionej. W XX wieku, zaczęto groszek zamrażać, był to prawdziwy sukces w przemyśle spożywczym. Obecnie nowoczesne technologie pozwalają zachowywać świeżość groszku praktycznie bez utraty jego wartości odżywczych oraz koloru.
W kuchni polskiej groch, zaraz obok kapusty, zajmuje czołową rolę. Nie bez przyczyny te dwa warzywa występują razem w wielu polskich powiedzeniach, np. w słynnym "groch z kapustą". Od XV wieku królował na polskich stołach. Jednak groch dojrzały, podobnie z resztą jak w innych częściach Europy, szybko spowszedniał lepiej sytuowanym i arystokratom. W kuchni dworskiej czasami dodawany był do dań jako zagęszczacz oraz polepszacz smaku, szczególnie lekko nadpsutego jedzenia. Stał się głównym źródłem pożywienia chłopstwa i biedoty. Sprawdzał się zwłaszcza zimą, kiedy to o uprawie warzyw trzeba było zapomnieć. Groch był łatwy do przechowywania, w związku z tym korzystano z jego zapasów w chude dni. Ponadto był to jeden z bardziej sycących i odżywczych składników spożywczych. Ważność tego warzywa podkreślona jest także przez wiele staropolskich przysłów ludowych, w których mowa o sposobie jego uprawy oraz pór roku, kiedy groch można siać i zbierać. Ten czas wytyczał kalendarz świąt kościelnych i liturgicznych oraz imieniny świętych, np. "Święty Józef groch siać każe". Przysłowia mówiły także o należytym dbaniu o uprawy: "Gdzie pan na polu nie chodzi, tam groszek się nie rodzi". Groch był także oznaką dostatku, "Kiedy groch w chałupie, a kapusta w kłodzie, to bieda nie dobodzie". Nie można wyobrazić sobie kuchni polskiej bez potraw z grochu, gdyż niemalże każda polska kuchnia regionalna może się takimi poszczycić. Po dziś dzień groch stanowi ważny element dań w kuchni polskiej, np. grochówki czy bożonarodzeniowej kapusty z grochem.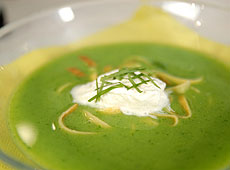 W Polsce występuje groch zwyczajny uprawiany jako warzywo, czyli groch zwyczajny typowy, oraz jako roślina dziko rosnąca - groch zwyczajny polny. Groch uprawowy wysiewa się do gruntu bardzo wczesną wiosną. Należy pamiętać, że inne wymagania ma groch hodowany do zbioru groszku zielonego, gdyż ten potrzebuje lepszej gleby, niż ten przeznaczony do zbioru ziaren suchych. Jeśli jesteśmy amatorami potraw z groszku zielonego pamiętajmy, że sezon na jego zbiór trwa od czerwca do sierpnia. W tym czasie można z niego przyrządzać wspaniałe potrawy: pasty, zupy, a także dodawać go do sosów i sałatek.
Oto kilka propozycji potraw z wykorzystaniem groszku zielonego:
puree z groszku
placek z zielonego groszku
puree z zielonego groszku z miętą i kolendrą
krem z zielonego groszku i szpinaku
stir fry z groszku cukrowego, grzybów i szpinaku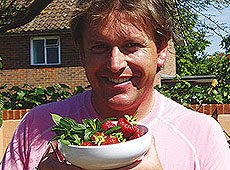 W wielu programach emitowanych na antenie Kuchni.tv mistrzowie kuchni podpowiadali jak przygotować rozmaite dania z grochu, groszku zielonego oraz innych roślin strączkowych. W nowej serii zatytułowanej James Martin i jego ogród, gospodarz programu również wykorzystuje to strączkowe warzywo w niektórych potrawach, ale pokazuje też jak przyrządzać dania z innych warzyw i owoców sezonowych uprawianych w jego własnym ogrodzie. Widzowie w dziesięcioodcinkowej serii mogą uczestniczyć w pracach Jamesa. Mają okazję zobaczyć, jak projektuje swój ogród, dba o rosnące w nim warzywa i drzewka owocowe. Jego doświadczenie związane z pracami w ogrodzie są raczej mierne... Mimo to z wielką determinacją i niewielką pomocą przyjaciół zabiera się do działania. W każdym odcinku gospodarz programu przyrządza potrawy z warzyw, ziół i owoców, które zebrał ze swoich grządek.