Kuchnia czeska
Kuchnie świata
Republika Czeska, podzielona na trzy regiony: Czechy (łac. Bochemia), Morawy i Śląsk Czeski, to kraj o bogatej historii, która jest zawarta także w tutejszych potrawach. Kraj będący przez setki lat pod wpływem Austro-Węgier, a po II wojnie światowej połączony ze Słowacją, posiada znamiona wszystkich tych państw. Jednakże, mimo kulinarnych wpływów sąsiadów, Czesi zachowali również swoje narodowe potrawy, które pozostały oryginalne i zachowały smak staroczeskich kulinarnych przepisów.
Kuchnia czeska to prawdziwe bogactwo smaków, szczególnie dla wielbicieli tradycyjnych dań przyrządzanych według starych receptur. Prawdziwe czeskie dania najłatwiej można odnaleźć w mniejszych miejscowościach, w których utrzymał się jeszcze duch starych, dobrych, nieskomercjalizowanych czasów.
Najbardziej ekskluzywne lokale spotyka się w Pradze, która, jak na stolicę przystało, jest najbardziej obleganym turystycznie miastem Czech. Niemalże na każdej uliczce znajdują się restauracje (cz. restaurace), bary, gospody (cz. hospody) i piwiarnie (cz. pivnice), które zapraszają na smakołyki ze swojej kuchni. Wiele z nich stało się miejscami kultowymi, jak chociażby Gospoda u Kalicha, w której pijał piwo słynny wojak Szwejk. Te naznaczone historią lokale są drogie i nie zawsze nastawione na najwyższą jakość potraw, aczkolwiek nawet w samym sercu Pragi można najeść się do syta za przyzwoitą cenę.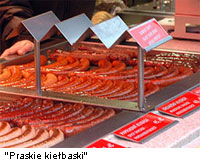 Poza daniami oferowanymi w eleganckich restauracjach czy piwnicach, zaopatrzonych w najlepsze czeskie piwa, warto spróbować przysmaków serwowanych w barach przekąskowych na targach i rynkach. Te miejsca obfitują w stragany z pysznymi praskimi kiełbaskami, (cz. klobásy), które można zjeść na gorąco z dodatkiem musztardy lub ketchupu. Można również zatrzymać się przy budkach, w których sprzedaje się parówki w bułce (cz. párky), odpowiednik amerykańskich hot dogów. Czesi nie są może znani z wyrobów wędliniarskich, aczkolwiek wiele z tych garmażeryjnych produktów ma doskonały smak. Zakłady mięsne w Kostelcu, znane są z produkcji aromatycznej, wędzonej kiełbasy zwanej lovecky Salam oraz wędzonej praskiej szynki (cz. pražka šunka) dostępniej również na straganach w Pradze.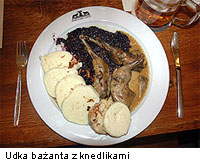 Należy zaznaczyć, że kuchnia czeska jest raczej ciężka i kaloryczna, ale bardzo smaczna. Obok wędlin, serwowane są wszelkiego rodzaju mięsa. Na pierwsze miejsce zdecydowanie wysuwa się wieprzowina, duszona w rozmaitych sosach lub opiekana na ruszcie (cz. vepŕova piec). Dziczyzna również zajmuje ważną pozycję w czeskiej kuchni, a bardziej ekskluzywne, narodowe restauracje prześcigają się w sposobach podawania sarniny oraz dzikiego ptactwa, m.in. bażantów. Zamawiając potrawę w restauracji lub innym większym lokalu gastronomicznym należy pamiętać, że danie główne składa się z mięsa, ryby lub drobiu oraz ziemniaków (cz. brambory) czy knedlików, bez których kuchni czeskiej nie można sobie wyobrazić. Osobno zamawia się sałaty i surówki, a najczęściej serwowanym warzywem jest duszona czerwona i biała kapusta (cz. zeli).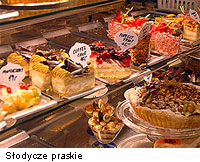 Czesi uwielbiają również zupy (cz. polévky), które są podstawą każdego obiadowego posiłku. Najsłynniejsza w Pradze jest zupa z flaków (cz. drstkova polevka), w innych regionach Chech serwuje się równie wspaniałą, zupę czosnkową (cz. česnakova polévka). Zwieńczeniem każdej kulinarnej uczty są desery podawane w eleganckich kawiarniach (cz. kavárna) i cukierniach. Jednym z nich są również knedliki, przyrządzane na słodko z dodatkiem owoców. Innymi słynnymi deserami są: narodowe ciasto zarówno Czechów jak i Austriaków, a mianowicie jabłkowy strudel (cz. jablkový štrůdl) oraz bułeczki z powidłami (cz. cesky kolac).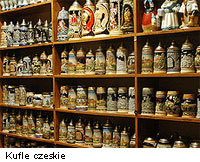 Czeskie jadło najlepiej smakuje w piwiarniach i gospodach, w których grzechem byłoby nie skosztowanie czeskiego piwa. Republika Czeska to kraj piwoszy, a piwowarstwo jest jednym z najstarszych rzemiosł na tych ziemiach. Lata praktyki i udoskonalania receptur pozwoliły wybić się czeskim browarom oraz zająć jedno z czołowych miejsc na świecie. Najczęściej spożywa się piwo jasne (cz. svétlé), ale również popularne jest piwo ciemne (cz. tmavé). Do najsłynniejszych należą wielkie browary: Pilsner, Staropramen, Kozel czy Budweiser. Obok magnatów piwowarskich istnieją również mniejsze, znakomicie prosperujące browary, produkujące swoje własne rodzaje piwa. Przeważnie znajdują się one w osławionych przez lata gospodach czy piwnicach. Do takiej zalicza się, znajdująca się w Pradze, Gospoda U Fleku, która wytwarza swoje flekovske piwo już od pięciu wieków.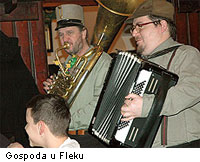 Osoby, które nie gustują w piwach, mają ogromny wybór win i mocniejszych alkoholi. W Czechach są dwa główne regiony zasobne w winnice. Są to okolice Pragi oraz Brno w Morawach. Najwięcej produkuje się win białych, aczkolwiek nie są one aż tak smaczne jak czerwone. Do najbardziej znanych zalicza się: Veltinské Zelené, Ryzlink Vlaśsky, Rulandské Bile oraz Muskat Moravsky. Można się nimi delektować w czeskich winiarniach (cz. vinárna), a w chłodniejsze dni serwowane jest również wino grzane (cz. svarené vino). Natomiast, jeśli chodzi o wysoko procentowe alkohole najsłynniejsze to: Becherovka, Borovička oraz Slivovica. Czesi znani są również z produkcji Absyntu, trunku, kiedyś sporządzanego na bazie piołunu, z którego, po odpowiedniej obróbce, uzyskiwano tujon- substancję halucynogenną.
Jak widać w Czechach oprócz wspaniałych miejsc i zabytków, warto odwiedzić tutejsze gospody i restauracje. Wspaniałe potrawy zapadają w pamięć, a o czeskich knedliczkach nie można przestać marzyć.