Kuchnia indyjska
Kuchnie świata
W czasach, kiedy powstawały największe starożytne cywilizacje Egiptu, Mezopotamii i Chin, na Półwyspie Indyjskim rozwijała się Kultura Indusu. Jej rozkwit przypada na trzecie tysiąclecie p.n.e. Od początku Indie pozostawały w silnym związku z wyżej wymienionymi cywilizacjami, co widać w obyczajach, kulturze, religii i kuchni tego kraju. Ze względu na położenie geograficzne Indie nazwano subkontynentem Azji. Południe wysuwa się w głąb Oceanu Indyjskiego, a od północy kraj ten osłaniają Himalaje. Rozciągłość równoleżnikowa kraju wynosi 2.933 km, a południkowa 3.214 km.
Najważniejsze religie tego kraju to: hinduizm, buddyzm, islam oraz chrześcijaństwo. Wyznawcy buddyzmu mieszkają głównie na graniczącej z Tybetem północy. Najważniejszym miastem dla muzułmanów jest Delhi, w którym podczas wojen religijnych schroniło się wielu islamskich artystów i uczonych. Dominującą religią w Indiach jest hinduizm, a kult wielu bóstw i bogów obecny jest wszędzie. Przejawia się w każdym aspekcie życia Hindusów. Chrześcijaństwo natomiast ma swoich wiernych na południu.
Indie to niezwykle kolorowy, intrygujący kraj duchowych poszukiwań. Pełno tu kontrastów społecznych widocznych najjaskrawiej w podziale na kasty. Skrajne ubóstwo żebraków sąsiaduje z przepychem pałaców bogaczy. Jednakże o charakterystycznym obliczu tego kraju nie świadczą jedynie różnice kulturowe czy społeczne, ale również klimat, od którego uzależnione jest rolnictwo Indii. Południe Indii leży w strefie będącej pod wpływem monsunów. Na zmianę przeplatają się pora gorąca, deszczowa i chłodna. Po porze deszczowej rozkwita zieleń, a tereny, które wcześniej trawiła susza pokazują swoje nowe intensywne barwy. Krajobraz Indii jest także niezwykle zróżnicowany. Tereny pustynne, wysokie pasma górskie, dżungle czy piękne plaże, które ciągną się kilometrami od Gudżaratu poprzez Keralę aż po Bengal Zachodni.
Indyjskie kontrasty można by wymieniać bez końca, ale najlepszym przykładem na ogromną różnorodność tego kraju, jest kuchnia indyjska. Hindusi gustują w pikantnie przyrządzonych potrawach, jak i w niezwykle słodkich deserach. Kuchnia tego kraju nierozerwalnie łączy się z jego kulturą i religią. Niezależnie od zamożności domu, w jakim posiłek jest spożywany, jest on najważniejszy i traktowany jest jako swoisty ceremoniał. Swój charakterystyczny smak, potrawy indyjskie zawdzięczają tutejszym przyprawom. Do najczęściej używanych należą: szafran, kumin, chili, imbir, kardamon, pieprz. Dodatkowo każda rodzina posiada swój własny sposób przyprawiania dań, masalą – mieszanką przypraw, które upodobało sobie dane hinduskie domostwo.
W kuchni indyjskiej przeważają dania wegetariańskie. Wyjątek stanowi północ Indii, gdzie spożywa się także mięso: baraninę, jagnięcinę i drób. Niemniej jednak ortodoksyjni Hindusi są stu procentowymi jaroszami. Wegetarianizm jest związany z szacunkiem dla żywych istot oraz wiarą w reinkarnację i ewentualny powrót zmarłego na ziemię pod postacią zwierzęcia.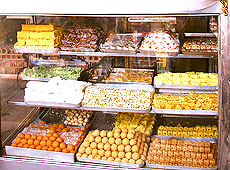 Z Indii nie można wyjechać bez spróbowania tutejszych słodkości, sprzedawanych niemalże na każdym targu. Do najbardziej charakterystycznych zaliczają się cukierki mithaj, czy kulki robione ze słodkiego sera zwane rasgule. Najbardziej znanym przysmakiem jest chałwa, której niezwykle słodkiego smaku nie można porównać z niczym innym.
Mimo tego, że wszystkie odmiany kuchni Indii mają wiele wspólnych cech, to każdy z rejonów posiada również swoje charakterystyczne potrawy i przyprawy, które fascynują i kuszą.