Kuchnia indyjska - Indie Zachodnie
Kuchnie świata
Radżastan i Gudźarat to zdecydowanie najbardziej charakterystyczne stany na zachodzie. Regiony te są niezwykle malownicze i zdecydowanie odmienne krajobrazowo od południowych czy wschodnich Indii. Dominują niezwykle surowe w swoim charakterze pustynie. Tutejsza ludność, ubiera się natomiast w barwne stroje, a swe domy maluje i przyozdabia ciepłymi kolorami.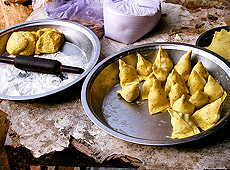 W tej części Indii królują zboża oraz wszelkie potrawy z nich przyrządzane. Przykładową potrawą są tzw. bati, czyli zapieczone kule formowane ręcznie z mąki razowej. Do tego dania używa się masła ghee oraz dal - gotowaną soczewicę lub ciecierzycę.
Ciecierzyca wykorzystywany jest w tym rejonie również do produkcji mąki, z której wytwarzane jest ciasto na pakorę. Jest to danie mające swoje korzenie w Pakistanie, w którego skład wchodzą warzywa, owoce lub mięso drobiowe zawinięte w ciasto. Na zachodzie, tak jak na południu i wschodzie kraju, do każdego posiłku serwowany jest ryż - uznany w Indiach za symbol płodności. Wśród regionalnych specjałów, które nadają swoistego smaku potrawom, na zachodzie używa się oleju z orzeszków ziemnych. Ma on neutralny smak i zapach oraz jest bogaty w białko.