Cienkie, płaskie placki przyrządzane z mąki i wody jadano już w starożytności. To one stały się punktem wyjścia dla współczesnej, jakże lubianej pizzy, której popularność zaczęła rosnąć w XIX wieku. Obecnie pizza znana jest na całym świecie. Miejscem narodzin tej prawdziwej, wypiekanej według długoletniej tradycji, są Włochy, a zwłaszcza Neapol. O historii i tradycji związanej z neapolitańską pizzą opowiada dokument emitowany na antenie Kuchni.tv pt: "Made in Neapol".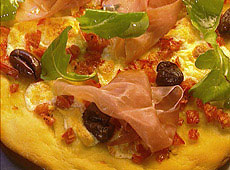 Kampania to region we Włoszech, który poza wspaniałym krajobrazami, architekturą i tradycją ma do zaoferowania wspaniałą, dość prostą, lecz opartą na wysokiej jakości regionalnych produktach kuchnię. Wszystkie produkty tutaj wytwarzane są dostępne w całych Włoszech, a także eksportowane poza granice kraju, lecz według mieszkańców regionu najlepiej smakują właśnie tutaj. Są bazą dań nie tylko tych rodem z Kampanii, ale też z innych regionów Włoch. Do tych najwyżej cenionych produktów należy zaliczyć wspaniałe sery, takie jak: scamorze czy wspaniała mozzarella z mleka bawolic - mozzarella di buffala czy z mleka krowiego mozzarella fiordilatte. Ponadto nie może zabraknąć w tutejszej kuchni wspaniałych warzyw i owoców uprawianych w tych regionie, jak np. słynne pomidory San Marzano. Niektóre z nich doczekały się już certyfikatu gwarantującego autentyczność pochodzenia - IGP - indicazione geografica protetta. Do nich zaliczamy cytryny z Amalfii – bazę słynnego likieru limoncello oraz orzechy laskowe odmiany "la Tonda di Giffoni". Stolicą regionu, a także sercem tutejszej kuchni, jest Neapol. Na ulicach tego malowniczego miasta położonego u stóp Wezuwiusza roi się od drobnych barów, kawiarni i restauracji serwujących prawdziwe przysmaki. Wśród nich, obok spaghetti napoletana, króluje prawdziwa neapolitańska pizza – chluba regionu i neapolitańczyków, wytwarzana nadal według receptur sprzed 100 lat.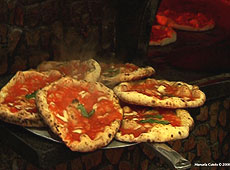 Historia pizzy sięga starożytności. Początkowo była to potrawa ubogich, którą można było bardzo szybko przyrządzić i się nią nasycić. Ten płaski, upieczony kawałek ciasta, przyrządzonego na bazie mąki i wody, serwowano z takimi dodatkami, jakie akurat były w domu. Nie obowiązywała jedna receptura. Dopiero od XVII wieku pizza włoska zaczęła przypominać pizzę współczesną. Zaczęto dodawać do niej coraz więcej składników, a pizza powoli zyskiwała miano narodowego dania włoskiego. W 1889 roku neapolitański kucharz Raffaele Esposito przyrządził na cześć królowej Małgorzaty Sabaudzkiej trzy pizze: dwie klasyczne i jedną własnego pomysłu, która kolorem składników nawiązywała do włoskiej flagi. Składniki te to mozzarella z mleka bawolic (po raz pierwszy wykorzystana do przygotowania pizzy w XIX wieku), sos pomidorowy (obecnie przyrządzany tylko z pomidorów San Marzano) oraz bazylia. Ta pizza najbardziej zasmakowała królowej Małgorzacie i na jej cześć pizza otrzymała nazwę pizzy margherity, która na stałe weszła do głównego menu neapolitańskich pizzerii. Poza nią w Neapolu można skosztować innych tradycyjnych pizzy z tego regionu, a mianowicie marinary, bufaliny, a także pizzy z kiełbasą i friarielli – polną kapustą, często dodawaną do dań z południa Włoch. Składniki dodawane do pizzy są dość proste, gdyż podstawą dobrej pizzy według neapolitańczyków jest ciasto, które od ponad stu lat wyrabia się według tej samej receptury. Czasami jest ona lekko modyfikowana przez właścicieli neapolitańskich pizzerii.
Na świecie pizza przybiera najrozmaitsze formy i smaki, jednak ta tradycyjna włoska smakuje najlepiej. Według neapolitańczyków dobra pizza musi spełniać podstawowe założenia, ma być zrobiona przez wykwalifikowanego pizzaiolo, który w mistrzowski sposób formuje idealnie okrągły spód ciasta, ponadto ma zwierać w swoim składzie oryginalne włoskie składniki jak np. mozzarella czy pomidory i musi być zrobiona w Neapolu. Ponadto neapolitańczycy twierdzą, że tylko tutaj, w tym wulkanicznym mieście, jest odpowiednia wilgotność powietrza, a także dostatecznie wapienna woda, dzięki której ciasto szybciej rośnie. Firmy produkujące składniki na pizze, zwłaszcza mąkę, robią ją specjalnie z uwzględnieniem celu jej zastosowania. Obecnie Włosi starają się o certyfikat unijny pozwalający uznać pizzę za produkt regionalny. Namawiają też młodsze pokolenia, aby nie zaprzestały się szkolić na pizzaiolo, gdyż w nich leży nadzieja, że prawdziwa neapolitańska pizza oraz długoletnia tradycja związana z procesem jej tworzenia i recepturami przetrwa.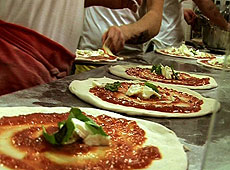 O historii, smaku, pasji i miłości do pizzy z Neapolu opowiada dokument "Made in Neapol". Twórcy filmu odwiedzają zakątki Neapolu, które były świadkami narodzin najsłynniejszego placka świata. Prostota receptury przyczyniła się do sukcesu tej potrawy. O jej tajnikach opowiedzą widzom najznakomitsi znawcy tematu, czyli neapolitańscy mistrzowie pizzy. Dokument jest hołdem złożonym nie tylko pizzy i jej twórcom, ale całej południowej części Włoch. Po obejrzeniu filmu można dojść do wniosku, że właściwa wersja słynnego powiedzenia powinna brzmieć: zjeść pizzę w Neapolu i umrzeć.