Zbliża się noc sylwestrowa, podczas której będziemy żegnać, mniej lub bardziej hucznie, Stary Rok oraz witać Nowy. Z pewnością nie zabraknie wspaniałego jedzenia, tańców, fajerwerków oraz symbolicznych bąbelków w postaci bardziej pospolitego wina musującego lub wytwornego i kosztownego szampana – ulubionego trunku wyższych sfer. We Francji, ojczyźnie szampana, podczas wszelkich wzniosłych uroczystości nie może go zabraknąć, a tysiące turystów rok rocznie przybywa do Szampanii, regionu w którym powstało to "diabelskie wino", aby móc go skosztować.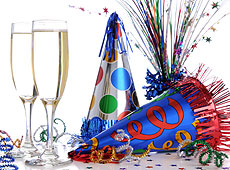 Madame Pompadour mawiała, że "szampan to jedyne wino, po wypiciu którego kobieta pozostaje piękna". Natomiast Napoleon przed każdą większą bitwą delektował się szampanem, który według niego przynosił mu zwycięstwo. Szampan od dawien dawna uchodził za trunek królewski i tym właśnie różnił się od typowego wina, które było bardziej pospolite. Swoją oryginalność oraz szlachetność zawdzięcza bogatemu bukietowi smakowemu oraz słynnym bąbelkom, które wspaniale szumią w głowie. Dzięki nim stał się także symbolem szczęścia.
Pierwsze wzmianki o cudownych winach z terenów obecnej Szampanii pojawiły się już za czasów Cesarstwa Rzymskiego. Juliusz Cezar był wielbicielem tych win, wtedy jeszcze niemusujących. Wina szampańskie pijano również na dworze francuskim, na długie lata zanim szampan został rozsławiony na całym świecie. Niemalże każda koronacja kolejnych królów Francji była wieńczona winem z Szampanii, aby należycie upamiętnić i uwznioślić te chwile. Szampania słynna były z produkcji tego specyficznego wina zwłaszcza dzięki szlakom handlowym jakie przebiegały przez miasta w tym regionie. Z czasem wino stawało się znane również poza granicami Francji, a to dzięki znamienitym rodom francuskim, które słynęły również z upraw winorośli oraz produkcji szampana. Należy tutaj wymienić wielkie nazwiska jak Clicquot, Pommery oraz Moet. Przedstawiciele tych rodów już w XVIII wieku zaczęli kampanię reklamową szampana na świecie i otwierali tzw. domy szampana "maisons de champagne", w których można do tej pory próbować najrozmaitszych gatunków szampana, a przy okazji kosztować znakomitych dań.
Zanim jednak ten wspaniały musujący trunek trafił na stoły zagranicznych możnowładców i bogaczy, techniki doskonalenia jego smaku oraz sposobu przechowywania były pieczołowicie opracowywane i do tej pory każdy z winiarzy produkujących szampana trzyma wiele z nich w sekrecie. Wielkie sukcesy w doskonaleniu tego musującego wina odniósł słynny benedyktyn Dom Perignon, który w XVII wieku pracował nad poprawieniem smaku win szampańskich oraz procesem winifikacji. Łączył gatunki winogron, produkował wino białe z ciemnych winogron, a także uporał się z problemem jaki trapił wielu winiarzy, a mianowicie pękającymi pod naporem gazów butelkami, w których dojrzewał szampan. Wzmocnił także korek, aby lepiej zabezpieczyć cenną zawartość butelki. Ponadto dopracował sposób przechowywania i leżakowania szampana, aby wzmocnić jego wspaniały smak oraz szlachetność i klarowność napoju. Jego prace zaowocowały, a szampan został uznany za trunek najwspanialszy i godny najwyżej urodzonych. Od 1927 roku szampan może być produkowany jedynie w strefie winiarskiej w Szampanii..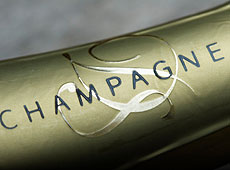 Winiarze z Szampanii zwłaszcza z okolic miasta Reims – najbardziej szampańskiego miasta we Francji – przez lata doskonalili technikę produkcji szampana oraz upraw szczepów winorośli, z których on powstaje. Do nich zaliczamy pinot noir, chardonnay, pinot meunier, które znakomicie przyjęły się na kredowej glebie oraz w dość surowym klimacie Szampanii. Całokształt warunków winnicy ma wpływ na określenie kategorii szampana. Może być on podzielony na grand cru oraz premier cru. Proces produkcji szampana jest dość skomplikowany i na tym właśnie polega unikatowości tego wspaniałego trunku. Doskonałość szampana określa się tak jak zapach perfum. Ma trafić do naszych zmysłów, do serca i głowy, ma posiadać duszę, bukiet oraz nutę.
Etapy produkcji szampana:

Fermentacja pierwsza – podczas tego etapu moszcz winogron fermentuje w kadziach, tak jak w przypadku win stołowych niemusjących.

Mieszanie (kupażowanie) – na tym etapie łączy się wina niemusujące wyprodukowane z różnych szczepów wykorzystywanych do produkcji szampana.

Druga fermentacja – wino jest butelkowane, a następnie dodawana jest do niego mieszanka drożdży i cukru, która ma wpływ na powstawanie bąbelków.

Oczyszczanie – ten etap jest najbardziej pracochłonny i polega na usunięciu osadu jaki powstaje po drugiej fermentacji. By usnąć osad butelki obracane są codzienne o ¼ obrotu i jednocześnie stopniowo przechylane tak, by szyjka butelki znajdowała się coraz niżej, aby poruszyć osad tak by skierował się w stronę ujścia szyjki butelki. Szyjki butelek są zamrażane, odkorkowywane, a osad jest wyrzucany pod wpływem gazu znajdującego się w butelce na zewnątrz.

Dosage (dozowanie) – podczas tego etapu uzupełnienia się ilość szampana, który został usunięty razem z osadem z butelki. Wtedy do musującego trunku dodaje się mieszankę cukru i starego wina. Ten etap ma wpływ na klasyfikację smakową wina od wytrawnych (brut) do słodkich (doux).

Dojrzewanie – butelki są korkowane, drutowane i odkładane, aby szampan dojrzał.


Szampan jest na tyle wymagającym i szlachetnym winem, że podawać należy go z należytym szacunkiem i w odpowiedni sposób. Szampana serwujemy w temperaturze od 6 do 8 stopni Celsjusza. Butelki nie wolno mrozić w zamrażalniku. Do właściwego wyeksponowania szampana potrzebne są także odpowiednie kieliszki. Obecnie zaleca się serwowanie szampana w długich i wąskich, aby jak najdłużej zatrzymać naturalne bąbelki.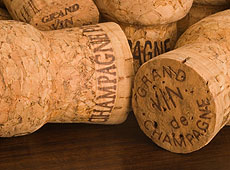 Szampan, jak świat szeroki, jest uznawany za najbardziej wyjątkowy trunek alkoholowy. Moda na niego z pewnością nie przeminie. Dzięki temu szlachetnemu napojowi wiele chwil jakie chcemy celebrować staje się jeszcze bardziej wyjątkowych i wzniosłych. W dokumencie emitowanym na antenie Kuchni.tv zatytułowanym SZAMPAN jego twórcy pokazują wielkość tego trunku oraz jego historię, a także historię rodów, które go rozsławiły. Poznamy także sposób uprawy winorośli, z których powstaje ten iście królewski napój.

Konsultacja: "Magazyn Wino", www.magazynwino.pl