Jacques Pepin - Dania na szybko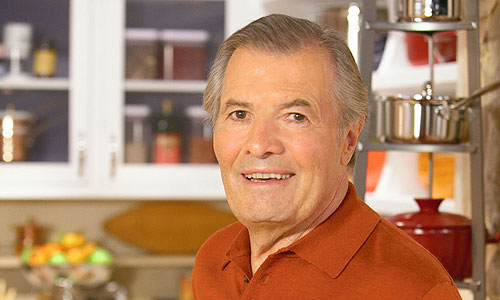 ---
(Jacques Pepin - Fast food my way), seria poradnikowa, USA, 2004, 26 x 30
Szybko nie znaczy byle jak! W nowej serii "Jacques Pépin: dania na szybko" widzowie przekonają się, że można przygotować wyśmienite potrawy w kilka chwil!
Jacques Pépin to człowiek, który nauczył Amerykanów gotować! W swoim programie pokazuje sztuczki i techniki, które pozwalają skrócić czas gotowania do minimum. Filety z kurczaka na puree kalafiorowym, podane z czerwonym sosem, faszerowane przegrzebki, doskonałe makarony, mięsa i desery to propozycje szybkiego menu. Pépin nie unika gotowych produktów. Do swoich przepisów używa pomidorów z puszki, kostek rosołowych i mrożonek, co znacznie skraca czas przygotowania dań, a nie wpływa na ich znakomity smak! "Jacques Pépin: dania na szybko" to smakowity kąsek dla widzów "w biegu", którzy cenią sobie dobrą kuchnię.

Jacques Pépin urodził się w miejscowości Bourg-en-Bresse, niedaleko Lyonu we Francji. Już jako dziecko pomagał w restauracji Le Pelican, należącej do jego rodziców. Prawdziwą naukę sztuki kulinarnej rozpoczął w wieku trzynastu lat w Grand Hotel de L'Europe. Potem pracował Paryżu, pod czujnym okiem Luciena Diata, szefa kuchni w Plaza Athenee. W latach pięćdziesiątych ubiegłego stulecia gotował dla francuskich mężów stanu, w tym dla Charlesa de Gaulla. Obecnie jest jednym z najbardziej znanych szefów kuchni w Stanach Zjednoczonych. Na swoim koncie ma 24 książki kucharskie, wiele artykułów, a także jest autorem 9 programów telewizyjnych.

gospodarz programu: Jacques Pépin
Dołącz do CANAL+ i oglądaj
jak chcesz i kiedy chcesz!