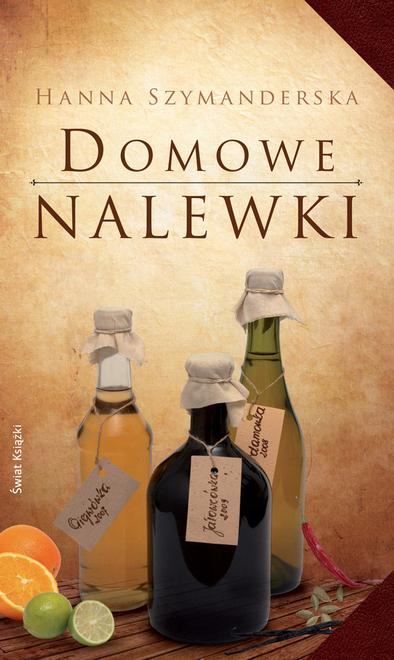 W Polsce nalewki, czy też kordiały (tzw. mocne trunki wspomagające serce) zapoczątkowała szlachta, która strasznie rozkochała się w tychże napitkach. To właśnie na dworach szlacheckich powstawały receptury na nalewki. Obecnie wiele domów szczyci się własnymi tego typu napojami o rozmaitych smakach. Książka Hanny Szymanderskiej "Domowe nalewki" pozwoli zwolennikom tego szlachetnego trunku, poznać sekrety i zasady sporządzania nalewek, które uczynią nalewki przez nich przygotowywane jeszcze bardziej wyjątkowymi.
W książce znajdziemy dziesiątki przepisów na trunki, które można samemu przygotować w domu. Wiele z nich to przepisy dość wykwintne i nietypowe, bazujące na przepisach staropolskich, lecz znajdziemy też te mniej wyszukane. Przepisy na nalewki podzielone są na kategorie w zależności od bazy jaka ma być użyta do ich sporządzenia, mamy więc przepisy na nalewki owocowe, ziołowe, korzeniowe, a także na inne trunki takie jak likiery czy rosolisy. Autorka w przystępny sposób przybliża także historię nalewek oraz proste zasady, których należy się trzymać przy sporządzaniu tego wracającego do łask trunku.
Nota o autorze:
Hanna Szymanderska - Najbardziej znana w Polsce autorka książek kulinarnych. Gotowaniem zainteresowała się w roku 1967, tuż po ślubie. Jej pierwsza książka pt. "200 potraw z warzyw" ukazała się w 1979 r. W 1982 r. pisarka zaczęła pisać na zamówienie felietony kulinarne, łącząc przepisy z krótkimi notatkami historycznymi. Wkrótce anegdoty, ciekawostki i cytaty z literatury, często trudno dostępnej lub zapomnianej, stały się znakiem rozpoznawczych jej książek. Do tej pory Hanna Szymanderska opublikowała kilkadziesiąt tytułów poświęconych głównie tradycyjnej kuchni polskiej. Jej przepisy ukazywały się na łamach wielu gazet, m.in. "Poradnika domowego", "Mojego gotowania" i "Kobiety i życia".