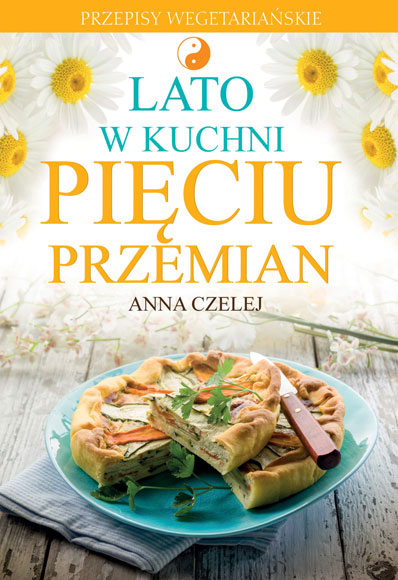 Lato w kuchni Pięciu Przemian
Anna Czelej
Wydawca: Wydawnictwo Illuminatio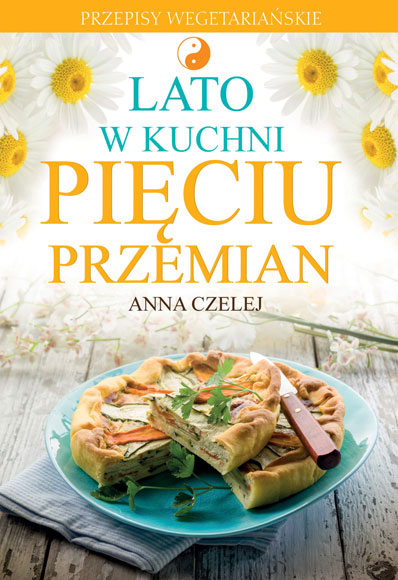 "Lato w kuchni Pięciu Przemian" to już druga książka z czterotomowej serii "W kuchni Pięciu Przemian", przygotowywanej przez Wydawnictwo Illuminatio. "Lato w kuchni Pięciu Przemian" to ponad 100 przepisów na pyszne dania wegetariańskie i bezglutenowe.
Lato to jedyna pora roku tak obfita w świeże warzywa i owoce. Dojrzewające w słońcu świeże, sezonowe owoce i warzywa, wzbogacone warzywami strączkowymi, kiełkami, nasionami i orzechami, to podstawa zbilansowanej letniej diety według Pięciu Przemian. Teraz możesz skomponować pyszne, zdrowe i zrównoważone posiłki odpowiednie na letnie dni.
Zachowując zasady gotowania według Pięciu Przemian i dodając składniki w odpowiedniej kolejności sprawisz, że energia wydobyta z potraw będzie krążyła i wzmacniała energię twojego organizmu, dzięki czemu osiągniesz równowagę, harmonię i pełnię zdrowia.
Lekka zupa, krem warzywny lub chłodnik. Warzywa gotowane bądź zapiekanka z kaszą. Sałatka z warzywami strączkowymi, a na deser szarlotka, gruszki w koglu-moglu lub maliny w sosie waniliowym… i oczywiście przetwory, by móc cieszyć się latem także za kilka miesięcy. To tylko niektóre z ponad 100 przepisów z wykorzystaniem sezonowych, wegetariańskich, a także bezglutenowych składników.
Według Pięciu Przemian lato to Przemiana Ognia, energetyczna natura yang, żywiołowa czerwień i smak gorzki, zaś na poziomie emocji to radość życia, witalność, kreatywność i serdeczność, które śmiało możesz wykorzystać także w kuchni.
Anna Czelej - z wykształcenia artysta plastyk, absolwentka warszawskiej ASP; harmonia i piękno od zawsze były obecne w jej życiu. Ponad dwadzieścia lat temu zajęła się chińską filozofią przyrody oraz kuchnią Pięciu Przemian, od tamtej pory wciąż eksperymentuje z potrawami wegetariańskimi i tworzy nowe przepisy. Jest autorką dwóch świetnie przyjętych książek o gotowaniu według Pięciu Przemian. W wolnym czasie na różne sposoby odkrywa tajemnice natury: uprawiając ogród, obserwując przyrodę czy fotografując.