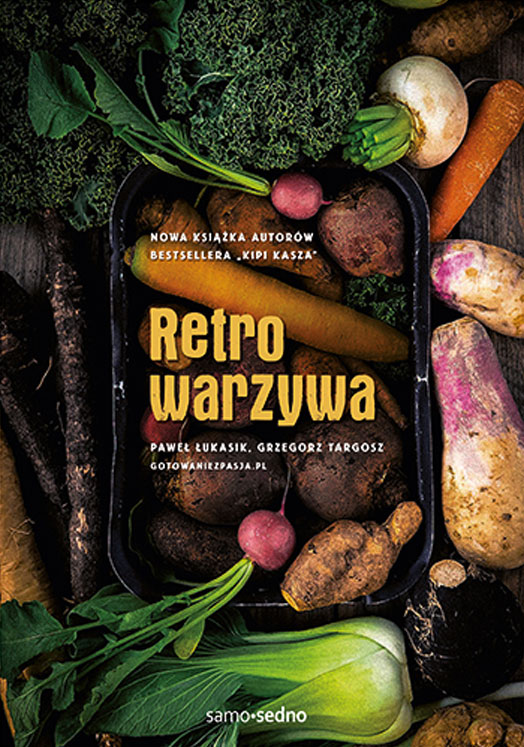 Retrowarzywa
Paweł Łukasik, Grzegorz Targosz
Wydawca: Wydawnictwo Samo Sedno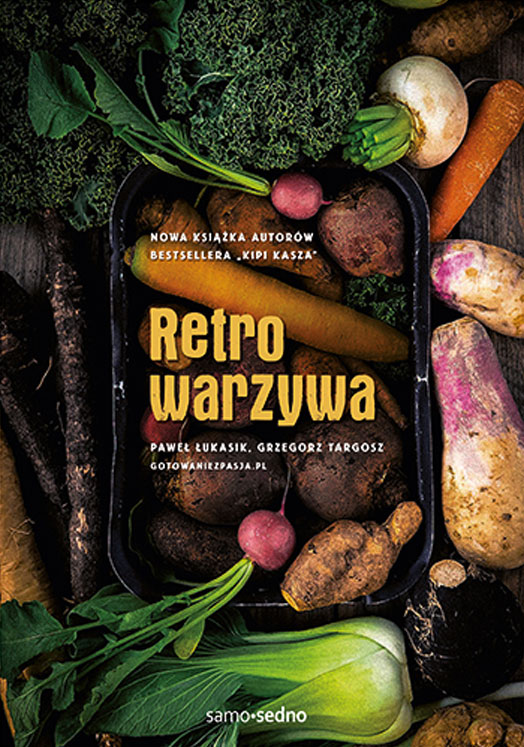 Warzywa na stół!
Burak, rabarbar, jarmuż, skorzonera, pasternak, brukiew oraz topinambur – siedem warzyw, kiedyś znanych i lubianych, a dziś już zapomnianych lub przypisanych do zaledwie kilku popularnych dań. Autorzy bestsellerowej książki "Kipi kasza" podjęli smakowite wyzwanie, by przywrócić retrowarzywa współczesnej kuchni. Przygotowali 105 oryginalnych przepisów, dla których inspiracją były dania z różnych części świata oraz polska tradycja i kultura. Warzywa występują w tej książce w roli głównej, dlatego blisko trzy czwarte przepisów to dania bezmięsne. Pomysły kulinarne zostały tak skomponowane, aby gotowanie sprawiało przyjemność zarówno osobom podejmującym kulinarne rewolucje, jak i doświadczonym wielbicielom dobrej kuchni.
Retrowarzywa powracają więc w wielkim stylu, wpisując się w ideę zdrowego i świadomego odżywiania się oraz powrotu do korzeni (także dosłownie!) i kuchni regionalnej.
Paweł Łukasik – technolog żywienia, a prywatnie pasjonat gotowania. Odpowiada za część merytoryczną, gotowanie oraz przepisy przygotowane specjalnie na potrzeby tej publikacji.

Grzegorz Targosz – fotograf, absolwent Otwartego Studium Fotografii Politechniki Krakowskiej, laureat w Ogólnopolskim Konkursie dla Profesjonalnych Fotografów Kulinarnych, autor wszystkich zdjęć w książkach "Retrowarzywa" i "Kipi kasza".
Obaj prowadzą blog kulinarny "Gotowanie z Pasją" (gotowaniezpasja.pl) udowadniając, że męska kuchnia może być kreatywna, zdrowa, lekka i wysmakowana także wizualnie. Swoją pasją do gotowania dzielili się już niejednokrotnie w programie "Dzień Dobry TVN" lub w audycjach radiowych – przez 1,5 roku w jednej z krakowskich rozgłośni prowadzili cotygodniowy program kulinarny "Na wolnym ogniu". Publikują swoje przepisy w ogólnopolskich magazynach, takich jak: "Moje Gotowanie", "Miasto Kobiet", "Moda na Zdrowie", "KUKBUK".
W maju 2015 roku nakładem Samo Sedno ukazała się ich pierwsza książka kulinarna "Kipi Kasza", która szybko stała się bestsellerem.
Książkę polecają:
Czas powrócić do korzeni! Burak, skorzonera, pasternak, brukiew, rabarbar, jarmuż i topinambur – główni bohaterowie książki, a jednocześnie zapomniane, lokalne i pyszne "superfoods" o tysiącu kuchennych zastosowań. Dawniej popularne, dziś - trochę "hipsterskie" - wracają do łask. Jednak ile potraw potrafilibyście z nich przygotować? Odkryjcie ponad 100 przepisów, które pozwolą Wam zakochać się w warzywach, przygotować efektowny posiłek oraz połączyć tradycję z nowoczesnymi trendami kulinarnymi.
Grzegorz Łapanowski
Męska kuchnia to samo mięso? W tym wydaniu jest wyrazista jak soczysty stek, choć główną rolę grają tu rośliny. "Retrowarzywa" były kiedyś tanie i pospolite, dziś królują w menu najlepszych restauracji. Topinambur, pasternak, brukiew – chętnie je jadamy, ale rzadko sami przyrządzamy. Mam nadzieję, że dzięki tej książce przestaną być domeną tylko szefów kuchni.
Martyna Szydłowska, redaktor prowadząca mojegotowanie.pl
Siłą tej książki jest jej prostota. Interesującymi przepisami na dania z buraków, rabarbaru, pasternaków i innych swojskich produktów autorzy udowadniają, że dobre jedzenie nie wymaga wiele zachodu. Przepisy są przejrzyste i łatwe do wykonania. Dobrze mieć pod ręką tę slowfoodową książkę.
Ewa Wagner, redaktor naczelna magazynu "Kuchnia"