Kuchnia Alaski
Kuchnie świata
Alaska kojarzy się z surowym klimatem oraz dziką, dziewiczą przyrodą. Tutejsze warunki naturalne determinują nie tylko styl życia mieszkańców, ale i tutejszą kuchnię. Dla przyjezdnych ta ostatnia – zwłaszcza tradycyjna - może wydać się zbyt osobliwa. Z drugiej jednak strony jest idealnym przykładem na to, że człowiek jeśli chce, to może stać się integralną częścią przyrody nie niszcząc jej zasobów. O podróży w poszukiwaniu lokalnego jedzenia oraz odkrywaniu sekretów kuchni Alaski, a także sztuce wyboru produktów spożywczych pod kątem ochrony środowiska i zrównoważonej diety, opowiada dokument Ellen Frankenstein pt. Rozgryźć Alaskę.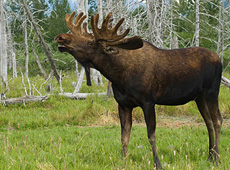 Alaska to największy i zarazem najsłabiej zaludniony stan USA. Leży na północno-zachodnim krańcu Ameryki Północnej i nie ma połączenia lądowego z resztą kraju. Od wschodu graniczy z Kanadą, a od zachodu poprzez Cieśninę Beringa z Rosją. Alaska jest zróżnicowania pod względem krajobrazowym i klimatycznym. W części południowej stanu panuje klimat umiarkowany chłodny, a w północnej - subpolarny. Zimy w tej części świata są długie i mroźnie. Dlatego tutejsza ludność, która zamieszkuje głównie południe stanu i tereny wzdłuż linii brzegowej, nauczyła się przez lata zaopatrywać swoje domostwa w produkty spożywcze pozyskane z natury, takie, które pozwalają przetrwać tę najdłuższą i najbardziej srogą porę roku. Oczywiście współcześni mieszkańcy Alaski nie muszą już specjalnie gromadzić żywności, gdyż jest ona ogólnodostępna w tutejszych sklepach czy supermarketach, jednak wielu, zwłaszcza rdzennych mieszkańców, pielęgnuje dawne zwyczaje i sposoby pozyskiwania oraz przygotowania dań. Również ludność napływowa próbuje opierać swoją codzienną dietę na alaskańskich lokalnych produktach w trosce o środowisko naturalne oraz rozwój lokalnych gospodarstw i producentów.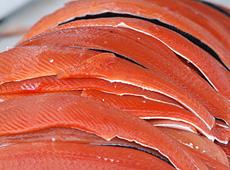 Właśnie lokalne smakołyki stanowią clue tutejszej kuchni i świadczą o jej unikalności. Tradycyjna kuchnia Alaski, to kuchnia bogata w białko i tłuszcze. Jak już zostało wspomniane ten stan rzeczy narzucił tutejszy surowy klimat. Tradycyjna żywność musiała być pożywna, a także zdrowa, aby bez problemu móc przetrwać nawet najbardziej mroźne dni. Bazowano zatem na naturalnych składnikach pozyskiwanych z lądu oraz z mórz i jezior. Kuchnia Alaski opiera się na daniach z ryb i owoców morza. Na stołach króluje łosoś, ale także krab królewski oraz krewetki i langusty. Znamiennym składnikiem tutejszych potraw jest tłuszcz, a także mięso dzikich zwierząt występujących w tej części świata takich jak: łosie, renifery, foki, morsy, czy ptaki. Na Alasce zanotowano także największe spożycie mięsa. Przeciętny mieszkaniec Alaski zjada około pół kilograma mięsa dziennie. Ze względu na warunki klimatyczne i konieczność długiego przechowywania porduktów spożywczych wykorzystywano i nadal wykorzystuje się naturalne metody pasteryzowania potraw. Do najpopularniejszych należy suszenie lub fermentacja. Często więc na przekąskę serwuje się suszone mięso ryb lub zwierząt np. reniferów. Mimo tak dużej przewagi białka i tłuszczy nad węglowodanami, również w tutejszej kuchni można znaleźć potrawy, do których przygotowania wykorzystuje się owoce czy warzywa. Niezwykle popularne są jagody i borówki, niektóre gatunki występuję tylko na Alasce. Wykorzystuje się je do przyrządzania deserów lub sosów do mięs. Ponadto do potraw - zwłaszcza zup -dodawane są korzenie roślin jadalnych, a także wodorosty. Ziemie Alaski należą do dość urodzajnych dlatego też podczas kilku cieplejszych miesięcy w roku uprawia się tutaj warzywa i owoce.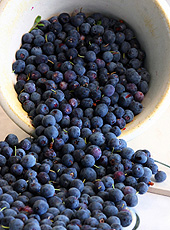 Rdzenni mieszkańcy szanują tutejszą przyrodę, a zwłaszcza fakt, że ich karmi. To natura ma tutaj przewagę. Uczą się nie eksploatować jej nadmiernie i dokonują swoich własnych wyborów, aby móc jak najdłużej cieszyć się jej hojnością. Mimo rosnącej świadomości związanej z aspektami ekologicznymi i etycznymi wśród mieszkańców tego stanu, Alasce nie udało się uciec od problemu jakie przyniósł ze sobą przemysł masowy, a zwłaszcza masowa produkcja i przetwórstwo żywności. Dlatego też coraz częściej mieszkańcy Alaski, posiadając świadomość globalnych zagrożeń, starają się być samowystarczalni. Wychodzą z założenia, że korzystanie z lokalnych produktów pozwala nie tylko zadbać o własny rynek oraz dietę, ale także uczy cierpliwości i szacunku.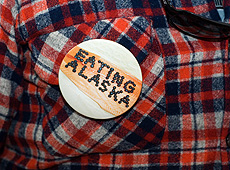 Bohaterka nowego filmu dokumentalnego, który będzie emitowany na antenie Kuchni.tv pt. Rozgryźć Alaskę i jednocześnie jego reżyserka przeprowadziła się na Alaskę, gdzie poznała swojego męża - łowcę jeleni i rybaka. Dawniej wegetarianka po zmianie miejsca zamieszkania, niejako z konieczności, zaczęła jeść mięso. Po 15 latach życia na Alasce postanowiła wyruszyć w podróż po tym największym ze stanów USA, by dowiedzieć się więcej o lokalnych produktach spożywczych i diecie rdzennych mieszkańców. Podróż miała pomóc jej odpowiedzieć na pytania dotyczące zrównoważonej diety. Ellen chciała sprawdzić, czy osoby nie będące rdzennymi mieszkańcami Alaski mają szansę odżywiać się, nie niszcząc środowiska naturalnego. Jaki wpływ na jedzenie mają zanieczyszczenie środowiska i odległości, jakie musi pokonywać żywność z odległych krańców świata. Dokument Ellen Frankenstein skłania widzów do refleksji i zastanowienia się, w jaki sposób, mieszkając w miastach i na wsi, można zdrowo się odżywiać, jak ważne jest kupowanie produktów od lokalnych producentów. To nowe spojrzenie na temat diety zrównoważonej.