Pomidory – złote jabłka
Produkty
Dawniej uważane były za niejadalne i trujące. Obecnie nie wyobrażamy sobie bez nich kulinariów. Mowa o pomidorach, kiedyś jadanych u nas tylko sezonowo, a obecnie dostępnych przez cały rok. O pomidorach, masowej i wzmożonej uprawie tego warzywa i jego standaryzacji, która jest zagrożeniem dla bioróżnorodności gatunku, opowiada dokument pt: "Czerwony jak pomidor".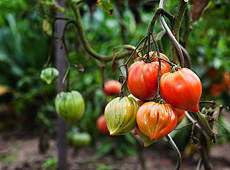 Pomidory pochodzą z Peru, gdzie były uprawiane przez Indian na długo zanim dotarli tam pierwsi Europejczycy. Na Starym Kontynencie pojawiły się dzięki hiszpańskim konkwistadorom, którzy przywieźli je do Europy w XV wieku bardziej w ramach ciekawostki niż potencjalnego nowego pokarmu. Początkowo nie cieszyły się wielką sławą, a wręcz podchodzono do nich sceptycznie uznając, że owoce rośliny są trujące. Dlatego krzewów pomidorów używano głównie do dekorowania rabat. Przełomu dokonali Włosi, którzy odważyli się użyć tego w kuchni. Nazwali je pomodoro – złote jabłko. Mimo podjętego kroku, proces kulinarnego poznawania nowego warzywa na Włochach się zatrzymał. Inne narody nadal były niechętne do rozsmakowania się w pomidorach. Może właśnie dlatego Włosi obecnie są jednym z najbardziej pomidorowych narodów na świecie, zaraz obok Hiszpanów i Greków. Pomidor stał się popularny dopiero w dobie rewolucji przemysłowej, kiedy to stawiano na coraz szybsze i nowsze formy transportu. Warzywo dotychczas uprawiane tylko na południu Europy zaczęło docierać coraz dalej i z czasem stało się jednym z ulubionych warzywnych przysmaków na całym świecie. Obecnie nie ma wielu kuchni narodowych, które w swoim spisie tradycyjnych i regionalnych dań nie mają chociażby jednego dania z wykorzystaniem pomidorów. W Polsce pomidory pojawiły się późno, bo w XIX wieku, a tryumfy zaczęły święcić dopiero w wieku XX. Obecnie nie wyobrażamy sobie kuchni polskiej bez zupy pomidorowej, serwowanej dawniej masowo w peerelowskich stołówkach, a obecnie nadal chętnie podawanej podczas domowych obiadów.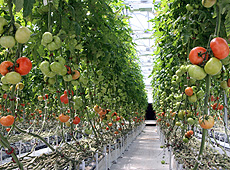 Dzięki łatwości uprawy i możliwości krzyżowania pomidory mogą występować niemal wszędzie. Dawniej, jeszcze przez erą globalizacji i masowego jedzenia, której początki sięgają czasów powojennych, uprawa pomidorów opierała się w stu procentach na naturalnych metodach. Rośliny wysadzane były do gruntu i dojrzewały w naturalnym słońcu. Z nasion tych najokazalszych powstawały nowe odmiany, bardziej dorodne lub bardziej soczyste. Znanych było około 7000 gatunków, a rolnicy uprawiający pomidory sami mogli je naturalnie krzyżować, aby tworzyć odmiany o nowych intrygujących kształtach, kolorach i smakach. Niestety wraz ze wzrastającym popytem w latach 50. i 60. XX wieku nastała potrzeba znalezienia nowych rozwiązań w intensyfikacji upraw. Szukano nowych odmian, które byłyby bardziej wydajne, odporne na szkodniki, a także wytrzymujące transport nawet do najbardziej odległych zakątków świata. Wraz z postępem nauki powstały więc uprawy hybrydowe – sztuczne krzyżówki najbardziej odpornych i spełniających powyższe oczekiwania odmian. Z czasem do listy życzeń w wyhodowaniu doskonałych gatunków doszły też próby standaryzacji i produkcji pomidora idealnie czerwonego i o regularnym kształcie. Niestety zapomniano o smaku, który przestał liczyć. Dane przestawione w dokumencie "Czerwony jak pomidor" mówią, że liczba uprawianych odmian pomidorów kolosalnie się zmniejszyła, a popularne są tylko te nieliczne czyli jakieś 2% z 7000 odmian. Te cechują sie ładnym wyglądem, a także dużą odpornością na transport lecz niestety nie mają smaku.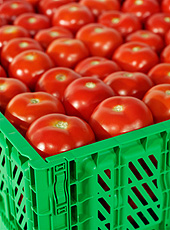 Stało się tak za sprawą odkrytego w latach 80. genu RIN, który jest inhibitorem dojrzewania, tak więc wstrzymuje procesy dojrzewania owocu, przez co można go dłużej przechowywać. Jednak w ten sposób wyhodowany pomidor nigdy nie będzie tak smaczny jak ten, który dzięki naturalnym promieniom słonecznym nabiera słodyczy i soczystości. Niestety w naszych sklepach dominują właśnie pomidory masowe, które są dużo tańsze od tych dojrzewających w słońcu, a poza tym są dostępne cały rok. Jednak poza tymi cechami nie mają żadnych walorów smakowych ani co gorsza wartości odżywczych. Dlatego też trwa walka, aby powrócić do odmian z czasów naszych babć i na nowo móc cieszyć się wspaniałym smakiem pomidora naturalnego, dostępnego co prawda tylko w sezonie, ale na taką przyjemność warto poczekać.
Pomidory uprawiane naturalnie mają bardzo dużo wartości odżywczych i witamin. Miąższ pomidora dostarcza witaminy A i C. Ponadto zawiera potas i kwas foliowy oraz witaminę B6, które przeciwdziałają miażdżycy. W pomidorach także znajdziemy witaminę K ważny budulec kości. Przede wszystkim jednak to doskonałe źródło likopenu i karotenoidu, które zwalczają wolne rodniki. Także osoby dbające o linie mogą zjadać pomidory bez większych ograniczeń, gdyż jest to warzywo niskokaloryczne – średni pomidor to tylko 20 kcal. Warto więc spożywać pomidory zwłaszcza te sezonowe, naturalne, mimo tego że z pewnością będą nieco droższe od tych uprawianych masowo. Można też zaoszczędzić sadząc swoje własne rośliny w przydomowym ogródku lub w donicach na balkonie.
Twórcy dokumentu "Czerwony jak pomidor" emitowanego na antenie Kuchni.tv postanowili przyjrzeć się produkcji pomidorów, uwzględniając w swoim obrazie kwestię uprzemysłowienia rolnictwa w dobie globalizacji. Zajęli się również tematem standaryzacji smaku tego warzywa, a także skierowaniem uwagi nas – potencjalnych konsumentów w kierunku naturalnego smaku i wspierania tym samym naturalnego rolnictwa.