Kuchnia indyjska - Indie Południowe
Kuchnie świata
Południe Indii oblewają wody Morza Arabskiego, Zatoki Bengalskiej i Oceanu Indyjskiego. W kuchni tego regionu dominują wiec ryby i owoce morza, a tutejsze wioski żyją z ich połowu. Na samym wybrzeżu np. w Kerali można zaobserwować charakterystyczny i ciekawy pod względem turystycznym sposób połowu ryb za pomocą tzw. chińskich sieci zanurzanych w rzekach lub morzu. Soczysta zieleń, liczne rzeki i wielobarwna roślinność czyni to miejsce niezwykle bajkowym. Jednakże oczekiwana przez całe upalne lato zielona pora, nadchodzi dopiero po deszczach monsunowych. Największe stany południa Indii to: Kerala w południowo-zachodniej części Indii, Tamilnad, Andha Pradesh i Karnataka.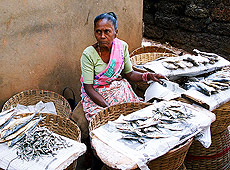 Ze względu na znacznie cieplejszy klimat, niż na północy, posiłki tutaj są proste i lekkie, jednakże przeważnie bardzo ostro doprawione. Potrawy opierają się głównie na owocach morza, takich jak: langusty czy kałamarnice, małże. Często główny posiłek stanowią ryby, m.in.: tuńczyki, barrakudy, dorsze. Wszystkie te dobra mórz można nabyć na wielkich targach. Straganiarze wprost prześcigają się w prezentowaniu swoich produktów i chwalą się dorodnymi okazami morskich stworzeń, jakie udało im się złowić.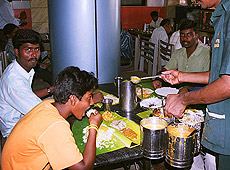 Hindusi z południa pochłaniają niezliczone ilości ryżu i świeżych warzyw. Królują tutaj głównie dania wegetariańskie przyrządzane na klarowanym maśle ghee. Jednakże jest jedno danie, które bazuje na mięsie i uchodzi za rarytas. Jest to pochodzące z północy birjani z baraniny. Dania w tutejszych barach i restauracjach serwowane są zazwyczaj na liściach bananowca, służących jako talerze jednorazowego użytku. Nawyki jedzeniowe z południa Indii zdecydowanie różnią się od tych z północy. Przyprawy są podobne, aczkolwiek na południu potrawy mają bardziej pikantny i ostrzejszy smak.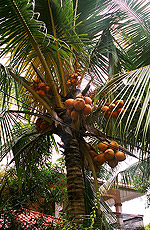 Doskonałym napojem, pomagającym ugasić smak palących podniebienie potraw, jest rayta lub lassi. Oba sporządzone są z jogurtu z dodatkiem przypraw lub owoców i pochodzą z północy, aczkolwiek rayta dotarła aż na południe i często serwowana jest turystom w restauracjach. Po porze suchej wszędzie widać zieleń palm, a ich owoce, czyli orzechy kokosowe, wykorzystywane są jako składnik wielu potraw. np. kokosowego chutney. Spragnieni mogą również skosztować mleka kokosowego prosto z rozłupanego orzecha, które sprzedawane są na targu. Najbardziej znanym tutejszym daniem jest vindaloo, czyli potrawa o słodko-kwaśnym smaku z dodatkiem ostrego chilli, przyrządzana w jednym garnku.
Południe jest miejscem niezwykle atrakcyjnym turystycznie przygotowanym na ugoszczenie gości przybywających z innych stron świata. Restauracje serwują przeróżne potrawy, do których również podawany jest alkohol. Jest on popularny na południu Indii, ale tylko wśród turystów i ludności wyznania chrześcijańskiego. Na południu, a dokładnie w Goa można skosztować wódki zwanej feni, produkowanej z wina kokosowego. Poza tym produkuje się tutaj rodzime wina i piwa.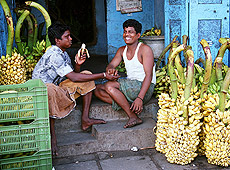 Oprócz trunków wysokoprocentowych, przeznaczonych głównie dla turystów, serwuje się również napoje bezalkoholowe takie jak herbata i kawa. Przyrządza się je raczej z dużą ilością mleka i cukru.
Po każdym posiłku Hindusi (jak i turyści, którzy pragną dogłębnie poznać smak Indii), spożywają tzw. paan. Jest to rodzaj pasty przyrządzonej ze zmiażdżonych orzechów zwanych betel. Ten specyfik pomaga zdezynfekować jamę ustną, ale również ma właściwości odurzające.
Wiara hinduistyczna w Indiach południowych jest niezwykle silnie zakorzeniona, a posiłki mają ważne znaczenie religijne. Jednym ze sposobów czczenia bóstw jest składanie im w ofierze jedzenia. Są to dania wegetariańskie na bazie ryżu i owoców.