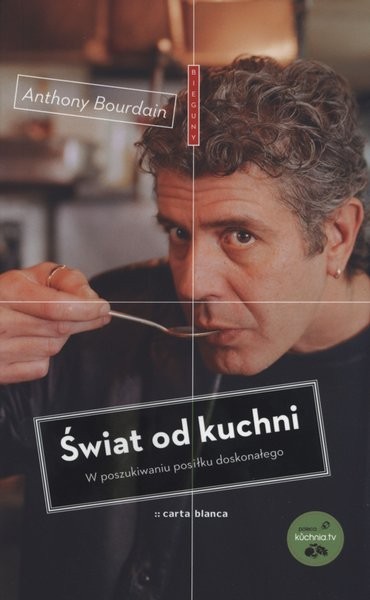 Świat od kuchni. W poszukiwaniu posiłku doskonałego.
Wydawca: Carta Blanca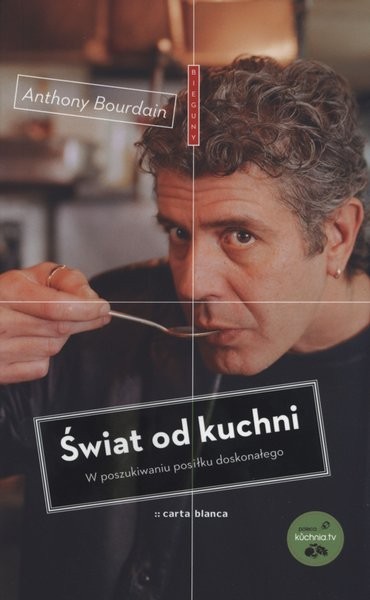 Anthony Bourdain, szczery do bólu szef kuchni i obdarzony niecodziennym poczuciem humoru podróżnik, rzuca się na ekstremalne potrawy światowej kuchni. Gwarantowany: soczysty język, pikantne portrety i ciekawostki godne outsidera w czapce kucharskiej. Anthony Bourdain to marka sama w sobie.
Znany z telewizyjnego cyklu programów kulinarnych, w których w co najmniej bezpośredni sposób przedstawia wszystko, co zjeść należy, i to, czego spożywać absolutnie się nie powinno, napisał pamiętnik ze swoich kulinarnych podróży. Książka szybko pojawiła się na liście bestsellerów "New York Timesa" oraz zdobyła tytuł 2002 Food Book of the Year, nadawany przez British Guild of Food Writers, a sam autor ugruntował sławę jednego z najciekawszych szefów kuchni. W "Świecie od kuchni" Tony Bourdain w znamienny dla siebie energetyzujący sposób otwiera przed Czytelnikiem drzwi najbardziej zaskakujących restauracji świata i opisuje najdziwaczniejsze, często przerażające potrawy. W czasie tej podróży dociera m.in. do Kambodży, Portugalii, Japonii, Wietnamu, Rosji, Francji, Wielkiej Brytanii, Meksyku i wschodniego wybrzeża USA. Czym zaskoczy orientalne menu? M.in. trującą rybą fugu, którą mogą przygotowywać jedynie kucharze ze specjalną licencją, jeszcze bijącym sercem kobry, smażonymi na chrupko baranimi jądrami czy gotowanym embrionem kaczki. A który z nich to, według Tony'ego Bourdaina, posiłek doskonały?