Kuchnia irańska
Kuchnie świata
Sok z granatów, syrop z płatków róży damasceńskiej, orzechy oraz aromatyczne przyprawy, to kwintesencja kuchni irańskiej – dawniej uznawanej za wzór dworskiej kuchni wykwintnej, której nie powstydziłby się żaden możnowładca. O kuchni i tradycji irańskiej opowiada seria dokumentalna emitowana na antenie Kuchni.tv pt. Smak Iranu. Pochodzący z Iranu dziennikarz brytyjskiej stacji BBC Sadeq Saba udaje się w podróż do rodzinnego kraju, aby przybliżyć jego kulturę i zwyczaje.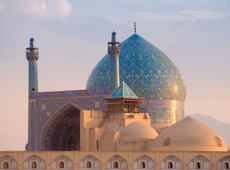 Iran ze stolicą w Teheranie, dawniej należący do Imperium Perskiego, wielkiej potęgi światowej, aż do 1935 roku nazywany był Persją. Dziś graniczy z Turcją, Armenią, Irakiem, Azerbejdżanem, Turkmenistanem, Afganistanem i Pakistanem. Od północy oblewany jest wodami Morza Kaspijskiego, natomiast południowa cześć kraju leży nad Zatoką Perską i Omańską. Iran ma niezwykle bogatą kulturę oraz zawiłą i krwawą historię. W wyniku licznych przemian kulturowych i politycznych kraj ten zamieszkują liczne grupy etniczne. Do najliczniejszych należy zaliczyć Persów, Azerów, Kurdów i Arabów. Jak się można domyślić to także kraj wielu języków, wyznań i kultur. Każda z nich zostawiła swój ślad w jakże zróżnicowanej i bogatej w smaki i aromaty kuchni irańskiej.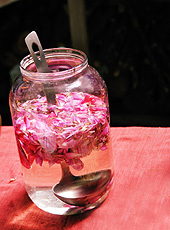 Kuchnia Iranu różni się w zależności od regionu. Każdy specjalizuje się w określonych potrawach. Są też dania i składniki, które można uznać za wspólne dla całej kuchni irańskiej, jak np. ryż, herbata, bakalie i rozmaite rodzaje kebabów. Można także wprowadzić ogólny podział kuchni na kuchnię północną i południową. Ta pierwsza jest bardziej sycąca i wytrawna w smaku. Znajdziemy w niej dużo warzyw, ryżu i mięsa. Im dalej na południe potrawy stają słodsze, także te mięsne np. pilawy głównie jagnięce lub baranie, do których dodaje się bakalie i suszone owoce. Jedzenie dla Irańczyków jest niezwykle ważną częścią życia. Dla niektórych wręcz podstawową, dlatego też wielu Irańczyków cierpi z powodu nadwagi. Wielu jednak nadal stosuje się do perskich zasad żywienia, które mówią o tym, aby jeść zdrowo i nietłusto. Należy pamiętać o daniach lekkich i wartościowych składnikach bogatych w witaminy, takich jak warzywa i owoce. Persowie wierzą także w zdrowotne właściwości jedzenia i przyrządzają dania według perskiej filozofii pokarmów zimnych i gorących, przy czym nie chodzi tutaj o temperaturę potraw, ale o wpływ jedzenia na organizm. Jeśli ktoś ma np. problemy z nadciśnieniem, to powinien w swojej diecie stosować więcej potraw zimnych czyli takich, które mają właściwości obniżające ciśnienie. Do nich zaliczany jest chociażby sok z granatów – czołowy, jeśli chodzi o kuchnię irańską składnik, potraw. Orzechy, które też często występują w tutejszych daniach słodkich i słonych, mają wg zasad perskiej filozofii właściwości rozgrzewające i pobudzające. Do popularnych składników, zalicza się także obowiązkowy w irańskiej kuchni, bardzo aromatyczny syrop z płatków róży damasceńskiej, zwanej inaczej różą perską. Podstawą wyżywienia przeciętnego Irańczyka jest ryż, serwowany niemal do każdego posiłku. Rozległe pola uprawne ryżu znajdują się w Gilanie, leżącym na północy kraju. Region ten znany jest także z rybołówstwa oraz produkcji jednego z najlepszych kawiorów na świecie, pozyskiwanego z jesiotrów wyławianych z Morza Kaspijskiego. Kawior, ale także ryby są podstawowym składnikiem regionów położonych na północy i na południu kraju. Na północy np. jada się ryby wraz z ikrą, a także z głowami. To ważne źródło fosforu, a solona ikra uchodzi tutaj za prawdziwy przysmak.
Dawniej w Iranie, tak jak we wszystkich krajach Bliskiego Wschodu, pijano głównie kawę, jednak od stu lat, odkąd poznano tajemnicę uprawy herbaty, to ona stała się podstawowym napojem. Często serwuje się ją do deserów. Iran znany jest także z uprawy oliwek i z bardzo aromatycznej i intensywnej w smaku oliwy. Dodaje się ją do rozmaitych potraw, często marynuje się w niej czosnek, którego w kuchni irańskiej nie może zabraknąć, a także oliwki wraz z pestkami granatu. Najwięcej gajów oliwnych znajduje się w Rudbarze. Za kuchnię najbogatszą w rozmaite smaki i tym samym najlepszą uznaje się kuchnię Isfahanu, ostanu położonego w centrum Iranu. Prawdziwym przysmakiem w tym regionie są kufteh czyli kuliste kotleciki przyrządzane z mięsa mielonego – głównie jagnięciny, ryżu i ziół. Słynnym deserem jest goosh-e fil - smażone ciasto polane syropem, do którego zazwyczaj do picia serwuje się doogh – słony jogurt z ziołami. Pozornie wygląda to na dość dziwne połączenie, ale według smakoszy tej potrawy idealne. Ponadto do najpopularniejszych potraw irańskich zalicza się: nan-e barbari – rodzaj pieczywa, baqala qatoq – popularny na północy duszony bób z czosnkiem szczypiorkiem i jajkami, mirza-qasemi – smażony miąższ bakłażana z pomidorami, khoresz ghaimeh – potrawa z jagnięciny, soczewicy, pomidorów, podawana z ryżem.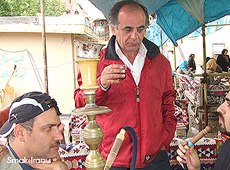 Więcej o kuchni irańskiej można dowiedzieć się z programu Smak Iranu. W trakcie swojej wyprawy gospodarz programu przemierza prawie cały kraj, od prowincji Gilan na północy aż do Zatoki Perskiej na południu. Obserwuje codzienne życie zwykłych mieszkańców Iranu. Towarzyszy im podczas zakupów, gotowania, pracy oraz zabawy. W każdym z odwiedzanych regionów dziennikarz prezentuje elementy kultury, historii oraz kuchni charakterystyczne dla danej części kraju. Zabiera widzów m. in. na targ rybny w mieście Raszt, do portu Anzali nad Morzem Kaspijskim oraz pokazuje oszałamiające zabytki starożytnego miasta Persepolis. Sadeq Saba zwraca również uwagę na bogactwo antycznej kultury Iranu oraz wciąż obecne u współczesnych Irańczyków głębokie poczucie perskiej tożsamości.