Karnawał to czas hucznej zabawy i ucztowania, bali maskowych, ulicznych parad i pochodów. To także imprezy i spotkania w gronie znajomych, odbywające się w domowym zaciszu. Na domówkach nie może zabraknąć dobrego humoru, wspaniałego jedzenia i napojów, bardziej lub mniej wyskokowych. Doskonale sprawdzą się różnego rodzaju przekąski i tzw. finger food - Kuchnia+ ma na nie mnóstwo przepisów!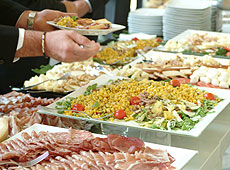 Podczas imprez w gronie znajomych, a także wielkich karnawałowych balów, oprócz muzyki tanecznej, wspaniałych strojów i dekoracji karnawałowych jedzenie jest tym, co równie mocno sprzyja dobrej zabawie. Na takich imprezach najlepiej sprawdzają się posiłki, które możemy szybko schrupać między jednym tańcem a drugim, i które nie przygwożdżą nas do stołu na długie godziny. Do nich zaliczyć możemy różnorodne przekąski i tzw. finger food, czyli drobne smakołyki, które je się rękami, bez użycia sztućców. Oczywiście duży i ciepły posiłek ma swoje zalety. Jednak dla tych, którzy lubią przetańczyć całą noc, lepszym wyjściem są małe dania. Prawdziwą biesiadę z suto zastawionym stołem pozostawmy nietańczącym, dla których karnawałowe przyjęcie jest okazją do konwersacji ze znajomymi i smakowania wszelkich pyszności. Coraz częściej jednak odchodzi się od tej formy ucztowania. Na wielu imprezach duże stoły, przy których spędza się cały wieczór, zastępowane są mniejszymi, przy których siada się tylko na chwilę, by odpocząć i coś przekąsić. Często w ogóle się z nich rezygnuje. Wtedy jedynym stołem jest tzw. stół szwedzki, na którym znajdują się wszelkie smakołyki i napoje. Zainteresowani przekąszeniem czegoś na ciepło lub na zimno mogą wybrać sobie to, na co w danej chwili mają ochotę, i popić ulubionym napojem bądź drinkiem.
Bogactwo przekąsek oraz przystawek w stylu finger food, które można serwować podczas imprez nie tylko karnawałowych, jest niezmierzone. Niezależnie od tego, czy planujemy podać je jako przystawkę przed daniem głównym, czy też serwować je przez cały wieczór, pomysłów na przygotowanie ich nie powinno zabraknąć. Setek inspiracji dostarcza Kuchnia+! W roli drobnych przekąsek wspaniale sprawdzają się małe kanapeczki, czyli tartinki - np.tartinki z sardynkami i tartinki z oliwkami i orzechami. Warto też postawić na dania kuchni meksykańskiej, które możemy serwować zarówno na ciepło, jak i na zimno. Tomasz Jakubiak poleca chrupiące tacos, burrito z wołowiną, chrupiące naleśniki z awokado i chorizo oraz pełnoziarnisty wrap z pieczonym kurczakiem. David Gaboriaud poleca tortille z warzywami i sardynkami, a Ewa Chodakowska - tacos z dorszem i łososiem. Na zimno możemy podać spring rollsy z płatów ciasta ryżowego – Ewa Chodakowska proponuje spring rollsy z kiełbasą i łososiem, a Marieta Marecka - spring rollsy z trzema farszami.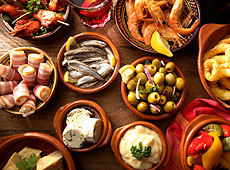 Inspiracji do przyrządzenia przekąsek możemy szukać w różnych kuchniach narodowych, które specjalizują się w serwowaniu przekąsek przed daniem głównym, lub jako dodatek do trunków spożywanych w małych barach czy restauracjach. W kuchni hiszpańskiej znajdziemy wspaniałe tapas, które łatwo przyrządzić ze składników dostępnych także w polskich supermarketach. Mogą to być krewetki czy kalmary na ostro, słynne patatas bravas – ziemniaczki pokrojone w kostkę, podpiekane i serwowane z pikantnymi salsami, koreczki z kiełbaski chorizo, oliwki faszerowane lub nadziewane na patyczki razem z pikantnymi papryczkami i grzanki z serami.
W Kuchni+ David Gaboriaud serwuje tapasy hiszpańskie i tapasy prowansalskie. Marieta Marecka poleca kalmary w cieście i bagietki z masłem i serem.
W kuchni greckiej roi się od pysznych mezedes - odpowiednika hiszpańskich tapas i włoskich antipasti. Zarówno te proste, jak pokrojony ser feta i oliwki, czy słynne souvlaki, czyli popieczone mięso mielone na patyczkach z dodatkiem sosu tzatziki, pasta skordalia do grzanek oraz bardziej skomplikowane pierożki z ciasta filo z dodatkiem szpinaku będą znakomicie smakować i nie są uciążliwe w konsumpcji. Szereg propozycji czeka na nas także w kuchni włoskiej. melon zawinięty w szynkę porsciutto czy parmezan z gruszką również z pewnością usatysfakcjonuje podniebienia naszych gości.
Nasze menu, zarówno w przypadku przekąsek, jak i dań bardziej obfitych, najlepiej przygotować wcześniej, aby w wieczór imprezy nie skupiać się na donoszeniu i przyrządzaniu potraw. Ułatwieniem w przygotowaniu i spożywaniu przekąsek są wykałaczki i małe widelczyki, sprzedawane często w zestawach z naczyniami przeznaczonymi do serwowania przekąsek. Wygląd stołu ma duże znaczenie, dlatego nie zapomnijmy o ozdobach. Nie powinny one jednak utrudniać dostępu do dań ani wpadać do nich. Organizacja menu karnawałowego zbudowanego z dań w stylu finger food zależy od kreatywności gospodarza, lecz już niekoniecznie od jego umiejętności kulinarnych. W przypadku wielu przekąsek nie trzeba być mistrzem kuchni, by wyszły doskonale.
Osoby, które nie mają czasu albo nie lubią kucharzenia, z powodzeniem mogą skorzystać z usług firm cateringowych, które specjalizują się w przygotowywaniu dań typu finger food. Oczywiście trzeba się wtedy liczyć ze zwiększonymi kosztami, ale dużo zależy od menu, jakie wybierzemy. Należy wiedzieć, że nawet wydawać by się mogło banalne finger food podlegają klasyfikacji w zależności od charakteru przyjęcia. Jeśli nasz bal ma być imprezą dla wyższych sfer, to nasze przekąski muszą tym aspiracjom odpowiadać. Szukamy wtedy składników z najwyższej półki. W menu powinny się pojawić eleganckie kanapeczki z kawiorem, faszerowane ślimaki, przekąski z najlepszych wędlin, np. włoskiej prosciutto czy hiszpańskiej jamon iberico, oraz najlepszych i najbardziej wyszukanych gatunków ryb i owoców morza. Tomasz Jakubiak poleca ślimaki zapiekane w sosie winnym i grzanki ze ślimakami. Wykwintną przekąską na zimno jest rolada szpinakowa z łososiem.
Na domówkach w gronie znajomych i przyjęciach mniej wykwintnych, mogą pojawić się smaczne, lecz nieco tańsze "finger food" jak np. pokrojone warzywa, serwowane z rozmaitymi dipami, krakersy z dodatkami. W imprezowym bufecie świetnie sprawdzą się pyszne, małe wypieki na słono, np. muffiny dyniowe, muffiny serowe lub wytrawne ptysie. Po pochrupania warto przygotować nerkowce z chili lub chipsy z topinambura