Kuchnia molekularna
zjawiska
Kawior o smaku pomarańczy, makaron w aerozolu, ryba o smaku czekolady, zielony groszek w postaci pianki… Jak te cuda powstają? Czy tak będzie wyglądała kuchnia przyszłości? Te nietypowe potrawy powstają już dziś w kuchennych laboratoriach. Stworzone przez kucharzy-fizyków i kucharzy-chemików, którzy poprzez swoje eksperymenty tworzą nowe kombinacje smaków i konsystencji. Kompozycje te zachwycają, ale również szokują i przez wielu tradycjonalistów uznawane są za hańbiące dla prawdziwej, tradycyjnej kuchni. Nowa seria dokumentalna emitowana na antenie Kuchni.tv pt. Alchemicy w kuchni przedstawia tych, którzy odeszli od kuchni tradycyjnej i obecnie uznawani są za mistrzów kuchni molekularnej.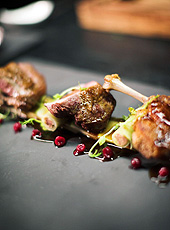 Gastronomia molekularna jeszcze niedawno mogła być uznana za abstrakcję, utopię i dziedzinę, która niewiele ma wspólnego z kuchnią przez duże K. Jednakże teraz liczy ona coraz więcej swoich zwolenników. Ten nurt w kulinariach pojawił się w latach 80. Sam termin gastronomia molekularna traktowano wówczas dość szeroko jako "nowe pole do eksperymentów fizyczno-chemicznych". Głównymi założeniami było tworzenie nowych, niekonwencjonalnych potraw, użycie nowych urządzeń i metod oraz zerwanie z tradycyjnymi sposobami kucharzenia. Później z szerokiego pojęcia gastronomii molekularnej wyłoniła się gałąź, nazywana kuchnią molekularną. Jednocześnie nastąpił przełom w rozumieniu kuchni jako takiej - opartej na tradycyjnych metodach przyrządzania potraw.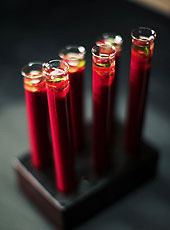 Kuchnia molekularna zrywa ze starymi wyobrażeniami o gotowaniu. Jej celem jest osiągniecie idealnego, czystego i udoskonalonego smaku potraw - serwowanych w nowych zaskakujących formach. Łączy naturę z nauką. Zrywa z konwencjonalnym smażeniem, gotowaniem czy pieczeniem - ogień został wyparty z kuchni. Nie potrzebne są już garnki, brytfanny czy patelnie, dlatego też wystrój zaplecza kuchennego nie przypomina wcale typowych kuchni w restauracjach - pełnych gwaru i potraw przyrządzanych na czas. Ta kuchnia wygląda jak laboratorium, w którym kucharze - fizycy, biochemicy czy też specjaliści od wzornictwa przemysłowego - tworzą swoje dzieła. Są to czasami tak zachwycające kompozycje, że można śmiało wystawiać je jako eksponaty w galeriach sztuki. Nie bez przyczyny nowy nurt w kulinariach został nazwany "kuchnią przyszłości". Dla wielu jednak chemia i fizyka, stosowane w molekularnych laboratoriach, kojarzą się raczej pejoratywnie i jednoznacznie, z czymś sztucznie modyfikowanym i niezdrowym. Mamy już dość chemicznie przetworzonej żywności w sklepach i naszych domach. Jednakże substancje wykorzystywane do gotowania molekularnego to zupełnie naturalne związki chemiczne, takie jak ciekły azot stosowany do zamrażania potraw, wyciąg z alg morskich mający właściwości zagęszczające i pozwalające zmienić konsystencję wielu dań. Kucharze molekularni próbują w laboratoryjnych warunkach znaleźć idealne receptury oraz formę potraw - zachowując ich naturalny smak, a czasem nawet nieco go udoskonalając.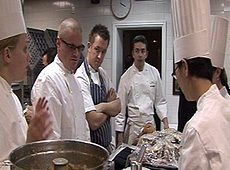 Wielu słynnych szefów kuchni na całym świecie wprowadza zasady fizyki przy kreowaniu swoich potraw - w celu "uczynienia niemożliwego możliwym". Wielu z nich nie chce się jednak identyfikować z gastronomią molekularną. Wolą mówić o sobie jako o eksperymentatorach poszukujących innowacyjnych rozwiązań w sztuce kulinarnej i odżegnują się od surowych zasad nauki. Chcą przyjemnie zaskakiwać smakoszy poprzez kontrasty form, aromatów i smaków. O trzech najwyżej cenionych w dziedzinie kuchni molekularnej szefach kuchni opowiada seria dokumentalna emitowana na antenie Kuchni.tv pt. Alchemicy w kuchni. Pierwszy to Ferran Adria, kucharz-fizyk z Hiszpanii, który wraz ze swoim zespołem kucharzy o umysłach ścisłych, ale artystycznej wyobraźni, zaskakuje coraz to bardziej wymyślnymi daniami. Adria łączy w swojej kuchni tradycję i nowoczesność, a jego dania to istna uczta dla zmysłów. Kolejnym wielkim w tej dziedzinie jest Heston Blumenthal uznawany za ekscentryka i alchemika zarazem, gdyż znany jest ze swojego innowacyjnego, naukowego podejścia do gastronomii, określanego mianem kulinarnej alchemii. W styczniu 2004 roku prowadzona przez niego restauracja - The Fat Duck - uzyskała prestiżowe trzy gwiazdki przyznawane przez przewodnik Michelina. Jego praca i trud włożony w rozwój kulinariów i brytyjskiej gastronomii został doceniony przez samą królową Elżbietę, która odznaczyła go Orderem Imperium Brytyjskiego. Trzeci Pierre Gagnaire, to znany francuski szef kuchni, zdobywca trzech gwiazdek Michelina. Ten 59-letni szef kuchni rozpoczynał swoją karierę w St. Etienne w środkowej Francji. Spędził 10 lat pracując w restauracjach w Paryżu i Lyonie. Obecnie prowadzi 7 restauracji na całym świecie: w Las Vegas, Dubaju, Paryżu, Seulu, Hong Kongu, Courchevel i Londynie. Jego paryska restauracja zajęła w 2008 r. trzecie miejsce w rankingu 50 najlepszych restauracji świata, organizowanym przez brytyjski magazyn Restaurant Magazine UK. 19 marca 2010 roku otworzył swoją pierwszą restaurację w Tokio. Gagnaire współpracuje z fizyko-chemikiem Hervé Thisem, razem realizują pasję związaną z tworzeniem wyszukanych potraw.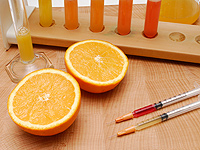 Kuchnia molekularna to wyzwanie i ciekawy eksperyment. Na całym świecie powstają Akademie Molekularne, w których kucharze udoskonalają swoje wizje i wymyślają nowe potrawy. Otwierane są również restauracje, w których - tak jak w El Buli - można tych cudów nauki i sztuki spróbować. Na razie nie jest to jeszcze kuchnia łatwo dostępna, ale kto wie, co się stanie w przyszłości… Może na obiad będziemy jadać ravioli z marchewki bez ciasta. Tylko czy każdemu z nas będzie to odpowiadać??