Wielkanoc dawniej
zjawiska
Na sześciu misach srebrnych, roboty wspaniałej były mięsiwa wędzone wieprzowe. Na drugich sześciu było dwoje prosiąt okrąglutkich, kiełbasy najmniej po cztery łokcie długie, a dziwnie pachnące i koloru krokoszowego, ciemnego ustrojone rzędami jaj święconych i pisanek pomalowanych w przeróżnej barwie, ale najwięcej na rakowe. Mięso miało cudną powłokę z tłuszczu, w różową barwę wpadającą.(...) Na samym środku stołu stał dziwnie piękny baranek z masła, wielkości naturalnej owieczki, ale ja bych za cały stół rad był wziął jemu oczy, a wszakoż to były dwa brylanty jak laskowe orzechy, w czarnej oprawie alias pierścienie ukryte w masie, których tylko tyle widać było, ile trzeba na okazanie oczu.
Opis stołu wielkanocnego u mieszczanina krakowskiego Mikołaja Chroberskiego stworzony przez Mikołaja Pszonkę w liście do żony - XVI wiek.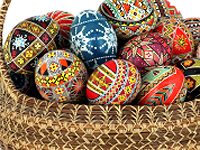 Święta Wielkanocne od początków chrześcijaństwa uznawano za najważniejsze święto liturgiczne w Polsce. Były, i nadal są, to święta najbardziej wesołe i radosne zwiastujące nie tylko zmartwychwstanie Chrystusa, ale także nadejście wiosny. Dodatkowo wiążą się z czasem rodzinnych spotkań i wspólnego biesiadowania w miłej, pogodnej atmosferze. Dawniej obchodzono je niezwykle hucznie zwłaszcza, że był to koniec poprzedzającego je dość rygorystycznego Wielkiego Postu. Niemniej jednak za czasów Polski szlacheckiej post nie do końca był przestrzegany i nawet w te dni pozwalano sobie na obżarstwo. Jedynie chłopi, głównie ze względu na biedę, pościli tak "jak Bóg przykazał". Wielkanoc ludowa była znacznie skromniejsze niż ta odbywająca się na dworze pańskim i zdecydowanie bardziej nawiązywała do tradycji. Niezależnie jednak od stanu pochodzenia, do Świąt Wielkiejnocy przygotowywano się niezwykle starannie. Na wszelkiego rodzaju wypieki i potrawy wielkanocne przeznaczony był Wielki Tydzień tuż przed Wielką Sobotą. W Wielkanoc koniecznie trzeba było ograniczyć prace domowe, zwłaszcza gotowanie. Dlatego też potrawy były już gotowe i ewentualnie lekko podgrzewane lub serwowane na zimno. Oczywiście do stołu świątecznego nie zasiadano, bez uprzedniego wyświęcenia jedzenia tzw. "świeconego" (obecnie "święconka"). W "Encyklopedii Staropolskiej" Zygmunta Glogera mamy przedstawiony opis "świeconego", odbywającego się na dworze wiejskim w XIX w.
"W Wielką Sobotę kapłan poświęcał wyczekiwaną po długim i surowym poście obfitą mięsną zastawę świąteczną. Gdy przybył do dworu wiejskiego, cała wieś znosiła święcone w kobiałkach podesłanych białymi ręcznikami i ustawiała w półkole na ziemi, w pośrodku zaś ceber z wodą. Kapłan poświęcał wodę i jadło, które odtąd przybierało nazwę "święconego". Wodę rozbierano do wszystkich domów we flaszki, a resztę wylewano do studni. Potem kapłan święcił we dworze święcone gospodarza. W dawnych czasach po rezurekcyi o północy dzielono się jajkiem, dziś rozpoczynają od tego jadło zimne w dniu świątecznym."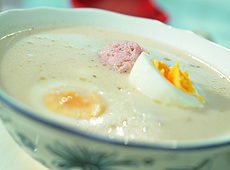 Po ceremonii poświecenia jedzenia czas postu dobiegał końca. Popularny był obrządek ludowy nazwany "pogrzebem żuru i śledzia". Ludność znudzona postnym jedzeniem, które dawniej składało się głównie z chudego żuru i śledzi – dopuszczalnych w zastępstwie zakazanego, ale jakże lubianego mięsa, wieszała symbolicznego śledzia na drzewie, a gar z żurem zakopywała. Obrządek ten miał niezwykle radosny charakter i oznaczał zerwanie z okresem umęczenia duchowego i fizycznego.

W Niedzielę Wielkanocną zaraz po mszy zasiadano do wielkiej wielkanocnej uczty, która trwała od śniadania aż do późnej kolacji. Na stoły wkraczały rozmaite smakołyki oczywiście wcześniej poświęcone. Czołowym elementem był baranek zrobiony z masła lub cukru, symbolizujący zmartwychwstanie Chrystusa. Utęsknione mięsiwa były najważniejszym i najbardziej wyczekiwanym jadłem. Wśród nich znajdowały się: pieczona lub wędzona w dymie jałowcowym szynka, kiełbasa czy pieczone pasztety, a na stołach magnackich niejednokrotnie pojawiała się również dziczyzna w postaci sarniny, pieczonych dzików, czy jeleni. Obowiązkowe było także pieczone prosię. Do mięs podawano także własnoręcznie pieczony chleb pszenny lub razowy. Tradycyjnie serwowany był staropolski żur z kiełbasą i chrzanem przyrządzany na zakwasie. Oczywiście święta nie mogły się odbyć bez jaja, stanowiącego symbol tych świąt oraz nowego życia. Pisanki przepięknie zdobione woskiem przez wiejskie kobiety, czy też kraszanki barwione na różne kolory za pomocą naturalnych barwinków okazale zdobiły stoły chłopskie, a także odgrywały ważną rolę podczas wielu zabaw ludowych np.: toczenia czy tłuczenia jajek. Oprócz jedzenia treściwego pojawiały się także słodycze w postaci ciast. Najpopularniejsze były kołacze, jajeczniki – ciasta z mąki i jaj oraz baby drożdżowe pieczołowicie przygotowywane przez wiejskie i dworskie gospodynie.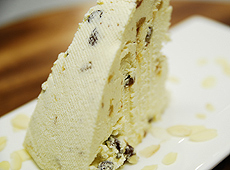 Ciasto drożdżowe było skrupulatnie zagniatane, odstawiane w ciche miejsce do wrośnięcia, aby mu hałas w rośnięciu nie przeszkadzał, a następnie wypiekane. W zamożnych dworach, dodatkowo baby drożdżowe barwione były szafranem oraz suto wysadzane bakaliami zwłaszcza migdałami, owocami w cukrze. Podobnie sprawa się miała z mazurkami niezwykle strojnymi w dekoracje wielkanocne. Ważną rolę odgrywała również pascha - potrawa serwowana na Kresach, przygotowuję się ją również dzisiaj. Była ona przyrządzana z mielonego twarogu, mleka, wanilii, cukru oraz bakalii. Paschę serwowano zarówno na ciepło, jak i na zimno.
Jak widać bogactwo potraw było nieprzebrane, szczególnie szlachecka Wielkanoc obrastała w przepych, za co wielokrotnie szlachtę potępiano. Już w XVI wieku to obżarstwo szlacheckie mające mało wspólnego z obrzędami religijnymi ganione było w literaturze np.: przez Mikołaja Reja - "ojca literatury polskiej". Zubożenie szlachty polskiej nieco wpłynęło na zaprzestanie z tym wystawnym świątecznym biesiadowaniem. Z czasem stół wielkanocny prezentował się już znacznie skromniej i był zbliżony wyglądem do stołów wielkanocnych nam współczesnych.