Wigilia - tradycja czy nowoczesność?
zjawiska

Karp czy łosoś? Barszcz czerwony, a może postny krem warzywny z dodatkiem ravioli? Coraz częściej eksperymentujemy podczas przygotowywania kolacji wigilijnej. A może większość z nas akceptuje nadal tylko tradycyjne dania? Czasami warto tchnąć nowego… kulinarnego… ducha w święta Bożego Narodzenia. Może do nowych kulinarnych poczynań świątecznych zachęcą nowe programy kuchni+:Jakubiak w sezonie: Wigilia oraz Jadało się. Kuchnia Jana i Marysieńki. Tomasz Jakubiak zaprezentuje tradycyjne wigilijne potrawy w nietypowej, nowoczesnej odsłonie, natomiast z drugiej serii dowiemy się co jadano dawniej również podczas wyjątkowych okazji.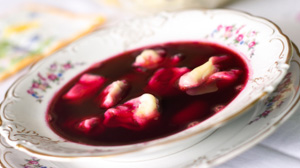 Nadchodzi najważniejszy w wielu domach, kultywujących tradycje kościoła rzymskokatolickiego, dzień Wigilii Bożego Narodzenia. Wraz z oczekiwaniem na pierwszą gwiazdkę w większości domów na stole pojawią się wspaniałe postne dania. Zgodnie z tradycją powinno być ich 12. Wśród nich: ryby przyrządzane na wiele sposobów, pierogi z kapustą i grzybami, zupy – postny czerwony barszcz z uszkami lub grzybowa z łazankami oraz kompot z suszu. Nie zabraknie zapewne pysznych wigilijnych ciast i ciasteczek: makowca czy pierników. W zależności od regionu Polski, podczas świat serwowane są różne potrawy. Na Mazowszu zagości karp w śmietanie czy kluski z makiem, na Śląsku zupa migdałowa oraz kapusta z grzybami, na Podhalu bukty lub też moskole. Jednak nie każdy dom przywiązuje tak wielką wagę do tradycji, niektórzy przyrządzą również dania mięsne, inni dania inspirowane np. kuchnią wschodu - wszystko zależy od własnej wyobraźni i… odwagi. Ci, najbardziej leniwi zdadzą się na firmy cateringowe.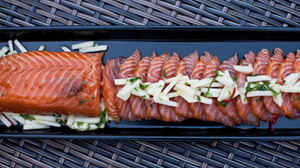 Dla miłośników kuchennych eksperymentów i tych, którzy chcieliby wprowadzić odrobinę nowoczesności na stoły wigilijne - proponujemy połączenie smaków i potraw z różnych stron świata. Oczywiście nadal przestrzegamy zasad polskiej tradycji. Jednakże zmieniają się warunki naszego życia, a my wciąż szukamy coraz to nowszych i bardziej kreatywnych doświadczeń i doznań. Zmieniają się również kulinarne "trendy", także te obowiązujące podczas świąt. Dla starszych członków naszych rodzin owe zmiany mogą wydać się zbyt rewolucyjne. Dlatego należałoby zawrzeć z naszą rodziną kompromis – zaproponować swoisty miks wigilijny. Przemieszać dania typowo tradycyjne z tymi natchnionymi duchem postępu. Nie ujmuje to w żaden sposób tradycji, a pozwala jedynie na wykorzystanie składników do tej pory niestosowanych. W naszych sklepach dostępne są coraz to nowsze produkty z całego świata. Dlaczego by nie wykorzystać owoców morza, ryb innych niż karp np. łososia, czy też ravioli ze szpinakiem i serem - zamiast tradycyjnych uszek z grzybkami czy pierogów z kapustą? Może by tak ową kapustę zastąpić rozmaitymi rodzajami sałat: pyszną rukolą czy radichio, albo też sałatą rzymską, która również doskonale nadaje się do gotowania i podawania jako przystawka do dań głównych. Grzybki inne niż nasze prawdziwki, takie jak chińskie shitake - także mogą stanowić doskonały dodatek do dań tradycyjnych.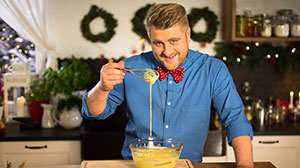 kuchnia+ również przygotowała się do wielkiego świątecznego gotowania. Zaprezentujemy programy, w których poznamy przepisy na dania tradycjne jak i nowoczesne. Tomasz Jakubiak w specjalnym wigilijnym odcinku programu Jakubiak w sezonie: Wigilia, zaproponuje tradycyjne potrawy wg własnego pomysłu. Przygotuje m.in. karpia karmelizowanego w miodzie i goździkami z wytrawnym sosem piernikowym i smażonym makaronem naleśnikowym oraz smażone pierogi z kiszoną kapustą, wędzoną śliwką i orzechami polane sosem buraczano-jabłkowym.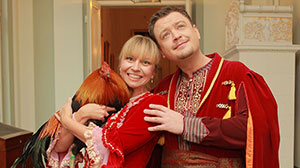 Natomiast w nowej serii Jadało się. Kuchnia Jana i Marysieńki prowadzący Paweł Loroch i Agata Pruchniewska odpowiedzą na pytania co jadali nasi przodkowie na co dzień, ale również podczas świąt, odkryją zapomnianą kuchnię staropolską. W kostiumach z epoki spróbują złowić rybę w wilanowskim stawiku i upolować dziką zwierzynę. Prowadzący w humorystycznej formie pokażą przepisy sprzed wieków, które do tej pory mogą święcić triumfy na naszych stołach. Przecież już w 1671 roku Jan Sobieski powiedział "Boć to nasze tylko na tym świecie, co zjemy dobrze i smaczno"! W programie eksperci: specjalistka od kuchni regionalnej i polskich książek kucharskich Hanna Szymanderska, historyk Jarosław Dumanowski i szef kuchni restauracji Tamka 43 Robert Trzópek opowiedzą o tradycyjnej kuchni staropolskiej i zdradzą wiele tajemnic o zwyczajach naszych przodków.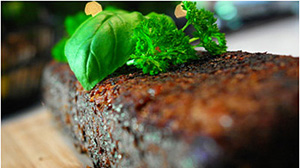 Mimo różnorodności dań, czy to w nowym stylu czy też tych, które zachowują tradycyjny smak - w każdym domu należy zadbać o ciepłą, rodzinną atmosferę. Nie zapominajmy również o obyczajach obowiązujących w naszej kulturze od dwóch tysięcy lat i zostawmy przy stole - niezależnie od naszych upodobań kulinarnych - miejsce dla zbłąkanego gościa. Sianko pod obrusem też jest mile widziane.
Zobacz przepisy na potrawy wigilijne kuchni+: potrawy wigilijne