Jakubiak w sezonie: Wielkanoc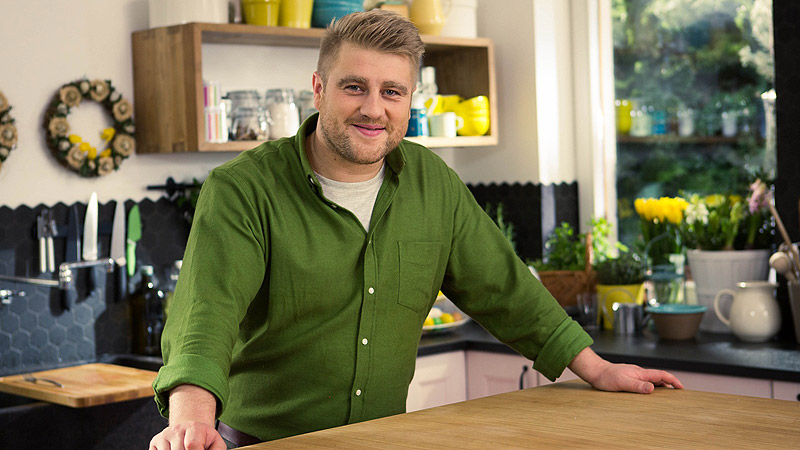 ---
magazyn, Polska, 2013, 26
Tomek Jakubiak podpowie, co zrobić, żeby potrawy wielkanocne nie były nudne i jak je perfekcyjnie przyprawić. Zestawi tradycję z nowymi trendami kulinarnymi. W programie zaprezentuje swój pomysł na białą kiełbasę, świąteczny pasztet oraz barszcz biały.
Wielkanoc to nie tylko ważne święto chrześcijańskie i istotny czas dla polskiej tradycji. To także święto smaków, moment, w którym polskie domy zaczynają intensywnie pachnieć drożdżową babą, domowym, długo gotowanym żurem, pieczonymi mięsami i tartym chrzanem. To właśnie Wielkanoc jest czasem, gdy przy kuchni, nad garnkami spotykają się pokolenia - babcie, matki, ojcowie, synowie i córki, by wspólnie dopieszczać smakowitą tradycję.

W wielkanocnym odcinku Tomek Jakubiak maluje pisanki, jednak szybko skupia się na tej wielkanocnej pracy, która wychodzi mu najlepiej: na gotowaniu. Jakubiak stworzy propozycje świątecznej uczty dla rodziny czy przyjaciół. Zaprezentuje wielkanocne dania: pieczoną białą kiełbasę z warzywami w sosie chrzanowo-śmietanowym, barszcz biały oraz pasztet z kurczaka i pistacji z ćwikłą i sosem żurawinowo- chrzanowym.

Tomasz Jakubiak to kucharz i dziennikarz kulinarny. Wcześniej szef kuchni w znanych warszawskich i zielonogórskich restauracjach. Gospodarz popularnego programu "Jakubiak w sezonie" w telewizji kuchnia+. Od czterech lat związany z telewizją śniadaniową ("Dzień Dobry TVN", "Pytanie na śniadanie"), w której promuje proste i zdrowe produkty. Gotowaniem zafascynowany od najmłodszych lat. To jego żywioł, miłość i pasja. Jest samozwańczym Sarmatą XXI wieku. O jedzeniu potrafi opowiadać godzinami, okraszając historie właściwym sobie poczuciem humoru. Z oddaniem angażuje się w projekty edukacyjne adresowane do dzieci i młodzieży, prowadzi warsztaty i pokazy kulinarne, a także - dzięki pracy w telewizji - dużo podróżuje i poznaje kuchnie innych krajów. Według magazynu MALEMEN, Tomek jeszcze nieźle "namiesza" - gazeta umieściła jego nazwisko wśród 30 mężczyzn przed 30-stką, którzy zmienią świat.
Dołącz do CANAL+ i oglądaj
jak chcesz i kiedy chcesz!
Inne programy prowadzącego