Melony, arbuzy, papaja, a nawet buraki czy też jabłka mogą służyć nie tylko jako smakowita i zdrowa przekąska, ale również jako ozdoba. Jak to możliwe?? Carving, czyli sztuka rzeźbienia w owocach i warzywach pozwala na przekształcanie tych darów natury w prawdziwie okazałe arcydzieła ozdabiające stoły i wnętrza na wystawnych przyjęciach. Na mniejszą skalę możemy również wykorzystać tę technikę na naszych domowych prywatkach, wtedy nawet drobna warzywna ozdoba z pewnością zachwyci naszych gości i wzmocni ich apetyt.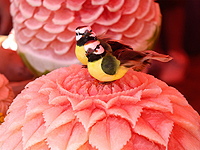 Carving, czyli umiejętność artystycznego rzeźbienia w rozmaitych owocach i warzywach, to nurt tzw. sztuki pałacowej wywodzący się z Tajlandii, a także z innych krajów azjatyckich takich jaki Japonia i Chiny. Sztuka ta istnieje już od ponad 1000 lat i stworzona była na potrzeby ozdabiania strojnych i uroczystych przyjęć, a także dań na dworze królewskim w Tajlandii czy cesarskim w Chinach i Japoniii. Przepiękne motywy roślinne i zwierzęce wyczarowywane według tradycji za pomocą nożyków, a następnie barwione naturalnymi barwnikami w celu nadania im intensywniejszego koloru, miały wzmagać apetyt gości na dania, które pojawiały się na monarszym stole. W starożytnych Chinach mnogość kolorów tych efektownych i nietypowych rzeźb była ważnym elementem dopełniającym całości, unikano natomiast koloru białego gdyż ten zarezerwowany był tylko na uroczystości żałobne.
Do carvingu używa się raczej warzyw niedojrzałych, tyczy się to zwłaszcza owoców egzotycznych, które szybko dojrzewają i są niezwykle soczyste. Do nich zaliczany jest arbuz, melon, dynia piżmowa czy papaja. Te owoce są zazwyczaj używane w początkowych fazach nauki carvingu, gdyż ich miąższ jest dość miękki, a duża płaszczyzna pozwala na wygodne wycinanie przeróżnych kształtów. Wdzięcznym tworzywem są również wszelkiego rodzaju warzywa np.: rzepa, buraki, brukiew, rzodkiew, kabaczki. Oczywiście te mniejsze i twardsze są bardziej trwałe, ale wymagają już pewnych umiejętności w rzeźbieniu. Podobnie sytuacja przedstawia się w przypadku małych i miękkich warzyw określanych jako warzyw trudne, do których zaliczany jest pomidor, papryczka chilli czy cebula. Stanowią one wyzwanie nawet dla mistrzów carvingu. Ta mozolna, ale dająca wspaniałe efekty praca kryje też wiele utrudnień. Niektóre z rzeźbionych misternie owoców są tak mało odporne na dotyk ciepłych dłoni i ostrych narzędzi, że co jakiś czas należy je schładzać w lodówce bądź obkładać lodem, gdyż bardzo szybko więdną i tracą swoją jędrność. W Azji do tworzenia tych smakowitych kompozycji używa się też roślin u nas nieznanych jak np.: bulw kolokazji - owocu niezwykle trwałego i rzodkwi japońskiej, a także ziół jako ozdobników wykańczających kompozycję.
Przy wykonywaniu tych wspaniałości należy zwrócić uwagę na wiele czynników, które wpływają na estetykę oraz końcowe wrażenie prezentowanej owocowo - warzywnej rzeźby. Wiele z konstrukcji wymaga wręcz umiejętności architektonicznych, a także dużej wytrwałości i wytrzymałości psychicznej. Niektóre warzywa czy owoce rzeźbi się dość mozolnie, a przy stworzeniu wielkiej kompozycji czas może wydłużać się do kilku lub nawet kilkunastu godzin.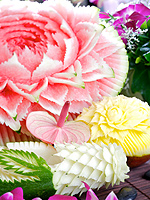 Do niedawna tajniki tej sztuki były znane tylko mistrzom kuchni azjatyckiej pracującym i przygotowującym przyjęcia na monarszym dworze. Obecnie wielu mistrzów w tej dziedzinie kształci zainteresowanych tą umiejętnością na całym świecie i tym samym propaguje ten nietypowy element sztuki kulinarnej. Restauracje i hotele zatrudniają mistrzów carvingu, aby ci mogli olśniewać gości przepięknie rzeźbionymi owocami. Jak widać ten niebanalny sposób ozdabiania formalnych przyjęć staje się coraz bardziej popularny. W Polsce również cieszy się coraz większym uznaniem, a wiele firm wydających przyjęcia zamawia tego typu rzeźbione kompozycje. Dorobiliśmy się już nawet naszych rodzimych mistrzów carvingu, którzy próbują zdobić owoce i warzywa nie tylko elementami o charakterze orientalnym, ale dodają też rodzime detale zdobnicze charakterystyczne dla kultury polskiej. Na całym świcie organizowane są także zawody, na których wybierani są ci najzdolniejsi mistrzowie carvingu.