Kuchnia marokańska
Kuchnie świata
U bram Cieśniny Gibraltarskiej, w północno-zachodniej części Afryki, leży kraj, który swoją kulturą zachwyca niemal wszystkich przyjezdnych. Ta barwna, oblewana wodami Morza Śródziemnego i Oceanu Atlantyckiego kraina, to także kolebka wspaniałej, pachnącej aromatycznymi przyprawami kuchni. Peta Mathias, gospodyni programu Peta w Marrakeszu wyrusza na spotkanie z kuchnią marokańską, postara się przybliżyć widzom jej tajniki i smaki.
HISTORIA
Maroko to kraj o bogatej historii, która kształtowała się przez wieki zarówno pod wpływem pierwszych berberyjskich plemion osiadłych na tych terenach już w starożytności, jak i narodów, dla których Maroko przez wieki stanowiło smaczny kąsek. Do nich należy zaliczyć Fenicjan, a później Rzymian, którzy podbili kraj w 42 roku n.e. W VII wieku Maroko trafiło pod panowanie Arabów, którzy odcięli się od kalifatu i stworzyli swój własny system rządów na tych terenach. Efektem tego najazdu była islamizacja kraju. Wyraźnie widoczne są także wpływy hiszpańskie, portugalskie, brytyjskie i francuskie, będące następstwem walk pomiędzy państwami europejskimi o te strategiczne tereny. Ostatecznie rywalizację tę wygrała Francja. Maroko znajdowało się pod jej protektoratem od 1912 roku. Uzyskało niepodległość w 1956 roku, a sułtanat, który do tej pory był formą rządów, został zastąpiony dziedziczną monarchią konstytucyjną. Obecnym królem Maroka jest Mahommed VI. Kraj podzielony jest na 16 regionów, z czego najczęściej odwiedzanymi przez turystów są te północne. Stolicą państwa jest Rabat położony w regionie Rabat-Sala-Zammur-Zair, a do ważniejszych miast należy zaliczyć górzysty i zielony Fez, Casablankę z największym portem morskim Maroka, międzynarodowy Tanger oraz bajecznie kolorowy Marrakesz.
KUCHNIA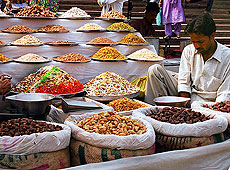 Kuchnia marokańska podobnie jak kultura i historia kraju, to wypadkowa wielu zewnętrznych wpływów. Poza kuchniami, które nadały smak przewodni potrawom marokańskim czyli kuchni Berberów oraz Arabów pojawiają się tutaj także smaki i składniki charakterystyczne dla kuchni wszystkich krajów położonych w obrębie basenu Morza Śródziemnego. Do nich zalicza się oliwki, oliwę, cytrusy, świeże warzywa. Ponadto w kuchni marokańskiej ważną rolę odegrała także kuchnia Żydów sefardyjskich, która uchodzi za dość pikantną i wyrazistą. Pełna jest aromatycznych przypraw takich jak cynamon, suszony imbir, czosnek, kolendra, oregano. Tutaj także pojawia się wspólny mianownik dla wszystkich kuchni śródziemnomorskich czyli oliwa, orzechy oraz warzywa takie jak bakłażany, cukinie czy pomidory. Francja, pod której wpływem znajdowało się Maroko, również odznaczyła swoje piętno na kuchni marokańskiej czyniąc ją bardziej wyszukaną i elegancką. Biorąc pod uwagę cechy wszystkich kuchni jakie kształtowały marokańskie kulinaria należy wyszczególnić składniki, które tworzą clou tejże kuchni. Wśród nich znajdują się liczne aromatyczne przyprawy takie jak wspomniany już cynanom, kmin, kolendra, ale także szafran, kardamon, ziarna sezamowe, papryka oraz mięta. Dania główne bazują zazwyczaj na mięsie drobiowym, wołowinie lub jagnięcinie, a także rybach. Kuchnia marokańska, mimo tego, że uchodzi za bardzo mięsną, posiada także w swoim repertuarze liczne dania na bazie warzyw zarówno duszonych, grillowanych i świeżych, serwowanych jako dodatek do dań głównych oraz w postaci sałatek. Zarówno z mięsa jak i warzyw oraz elementu charakterystycznego dla kuchni północnej Afryki, jakim jest kaszka kuskus, przyrządza się chyba najbardziej znamienną dla kuchni marokańskiej potrawę - tadżin. Jej nazwa pochodzi od glinianego, stożkowatego naczynia w jakim potrawa jest przyrządzana. W skład tadżinów zazwyczaj wchodzi mięso duszone z warzywami. Wyróżnia się tadżiny z wołowiny, z kurczaka, jagnięciny oraz z ryb, ale istnieją także tadżiny wegetariańskie w dużej mierze przyrządzane pod kątem turystów. Do innych niezwykle popularnych dań marokańskich zalicza się smaczną i pożywną zupę harirę, której podstawą jest oczywiście mięso, warzywa, liczne przyprawy, a także niezwykle popularna i dodawana do wielu marokańskich dań ciecierzyca. Dodaje się ją także do sałatek oraz tworzy się z niej popularną w kuchni arabskiej pastę hummus serwowaną do pieczywa. Smakiem bardzo charakterystycznym jest smak kiszonych cytryn, które można przyrządzić w prosty sposób również w warunkach domowych. Dodawane są one do wielu dań, aby nadać im oryginalności. Marokańczycy lubują się także we wszelakich słodkich deserach i ciastach, których podstawą są bakalie, orzechy, syropy, a także owoce zwłaszcza te słodkie np. figi.
Popularną słodką przekąską są rogi gazeli zwane kaab el ghzal – czyli drobne rurki nadziewane pastą z migdałów oraz obsypane cukrem. Natomiast najbardziej popularnym drinkiem jest atai, przyrządzany z zielonej herbaty z dodatkiem mięty i sporej ilości cukru. Napój spożywany jest nie tylko w celu zaspokojenia łaknienia, ale także odgrywa ważną rolę w codziennym życiu Marokańczyków. Parzenie i spożywanie go to rytuał jednoczący rodziny oraz znajomych. Należy zaznaczyć, że poza intensywnymi smakami kuchnia marokańska to także niezwykle apetyczna gra kolorów, soczystych i kuszących, które dodatkowo podkreślają jej wyrazistość i przyciągają rzesze smakoszy.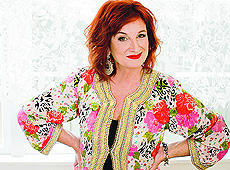 W nowym programie emitowanym na antenie Kuchni.tv pt: Peta w Marrakeszu gospodyni programu - znawczyni dobrego jedzenia i podróżniczka - Peta Mathias wyrusza na spotkanie z marokańską kulturą i kuchnią. Celem jej wyprawy jest Marrakesz. Peta odwiedza lokalne targi z żywnością, uliczne bazary, pełne przypraw, ziół, warzyw i owoców stragany z jedzeniem, rozkoszuje się zapachami i smakami specjałów lokalnej kuchni. Dzięki swojej otwartości i poczuciu humoru poznaje wiele osób, które zdradzają jej kulinarne tajemnice. Pasją gospodyni programu jest jednak gotowanie. Przygotowuje więc wyśmienite dania rodem z marokańskiej kuchni. Orgia kolorów, pięknych widoków, tradycyjnej marokańskiej muzyki przeniesie widzów do Afryki Północnej.