Maj miesiącem szparagów
Produkty
Szparagi uchodzą za wykwintne warzywo, przez co nieczęsto goszczą na naszych stołach. To wielki błąd, ponieważ są źródłem wielu witamin i składników mineralnych. Dodatkową ich zaletą jest łatwość przyrządzania i niepowtarzalny smak. Maj to miesiąc szparagów i tylko teraz są naprawdę świeże i dorodne, więc warto się nimi bliżej zainteresować.
Szparagi są znane jako dodatek do potraw, a także danie samo w sobie, od czasów starożytnych. W Europie początkowo z ich walorów, zarówno smakowych, jak i leczniczych, korzystali Grecy i Rzymianie, a następnie trafiły one również na inne stoły. Do Francji, która szczyci się sporą ilością przepisów z wykorzystaniem tego warzywa, dotarły w XV wieku, a do Polski w XVIII. Często spotyka się je również jako przysmak w Niemczech i Belgii, a głównymi producentami szparagów w Europie są Holandia i Włochy.
Rozróżniamy szparagi białe, zielone i fioletowe. Te pierwsze są najczęściej spotykane i uprawiane w Polsce oraz w Niemczech. Są twardsze od zielonych, a przed gotowaniem należy je obrać. Zazwyczaj nie miesza się ich z zielonymi ze względu na czas gotowania. Szparagi zielone są nieco bardziej delikatne, nie trzeba ich obierać co jest dodatkową ich zaletą, gdyż skórka szparagów zawiera wiele składników mineralnych jak np. potas, magnez, fosfor, wapń oraz witaminy B i C. Szparagi fioletowe, są rzadziej spotykane. Uprawia się je głównie we Włoszech, ale również w Stanach Zjednoczonych. Różnią się od zielonych i białych tym, że zawierają więcej cukrów i mniejszą ilość błonnika. Dodatkowym plusem szparagów, niezależnie od rodzaju, jest ich niska wartość kaloryczna oraz fakt, że są lekkostrawne.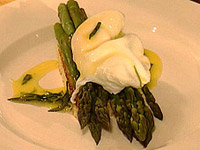 Świeżość szparagów sprawdzamy poprzez złamanie łodygi. Gdy jest sprężysta, a po przełamaniu tryska z niej sok oznacza to, że z powodzeniem można używać ich do przygotowania potrawy. Obecnie ze szparagów przyrządza się wiele dań. Popularne są omlety ze szparagami, tarty, zupy - kremy szparagowe, zapiekanki. Szparagi wyśmienicie smakują również z rozmaitymi sosami np. sosem holenderskim. We Francji królują szparagi podawane z jajkami w koszulkach - Oeufs pochés aux asperges et crème fraîche. Prawdziwym rarytasem jest również danie zainspirowane kuchnią polską, a mianowiecie, szparagi po polsku - Asperges à La Polonaise, czyli szparagi polane tartą bułką smażoną na maśle.
Oto kilka wskazówek dotyczących właściwego przygotowania szparagów.
Surowe szparagi, całe lub obrane najlepiej przechowywać w lodówce, zawinięte w wilgotną ściereczkę.
Przed przygotowaniem obcinamy ogonki szparagów, a łodygi układamy w dużym garnku do góry główkami. Gdy nie mamy odpowiedniego naczynia do gotowania szparagów można związać je sznurkiem, aby się nie przewracały i mogły równomiernie ugotować.
Podczas przyrządzania szparagów dobrze jest do gotującej się wody dodać obierki ze szparagów, dzięki czemu warzywa staną się bardziej aromatyczne i skondensowane w smaku.
Ilość wody w garnku powinna obejmować tyko łodygi szparagów, główki mogą wystawać ponad powierzchnię gdyż gotują się najszybciej.
Do gotowania szparagów można używać również mleka, wtedy są niezwykle delikatne.
Należy pamiętać o tym, aby nie przegotować szparagów. Najlepiej wyjąć je z wody gdy są jeszcze niezbyt miękkie, dojdą na talerzyku.
Gdy szparagi podsmażymy na maśle staną się bardziej słodkie.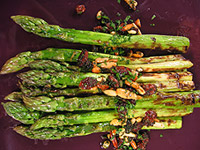 Kuchnia+ poleca kilka wyśmienitych przepisów z wykorzystaniem szparagów:
Zachęcamy do spożywania tego zdrowego i niezwykle smacznego warzywa, szczególnie wiosną, kiedy to szparagi są najsmaczniejsze. Dodatkową zachętą powinien być fakt, że dawniej szparagi uznawano za afrodyzjak, wiec może warto to sprawdzić?