Wielkanoc w Kuchni+
zjawiska
Zbliża się Wielkanoc, która w tym roku przypada 22 kwietnia. Z tej okazji Kuchnia+ przygotowała programy z propozycjami potraw na świąteczne stoły. Będziemy serwować zarówno dania tradycyjne, jak i wariacje na ich temat. Swoimi przepisami na udane święta podzieli się Marieta Marecka. A na stronie Kuchni+ czeka na Was ponad 100 PRZEPISÓW NA WIELKANOCNE POTRAWY, w tym PRZEPISY NA CIASTA. Zapraszamy!
Od 6 kwietnia będziemy pokazywać wielkanocny odcinek 365 obiadów Mariety Mareckiej 6. Marieta pokaże, zamarynować i upiec rozmaite mięsa, przygotuje tez bitki wołowe i niebanalny sernik z sosem z mango i limonki. Przepisy na wegańską Wielkanoc znajdziecie w specjalnym odcinku Zielonej rewolucji Marty Dymek 2, a dania mięsne zaserwuje Tomasz Jakubiak w programie Jakubiak w sezonie: Wielkanoc
Wielkanoc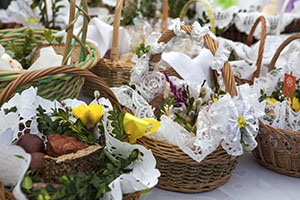 Świętowanie Wielkanocy w Polsce ma wielowiekową i bogatą tradycję, również kulinarną. Jednym z jej elementów jest święconka - czyli koszyczek z pokarmami, które święci się w Wielką Sobotę. W święconce zwykle znajdują się jajka, chleb, sól, wędlina, chrzan, ciasto i figurka baranka. Na przestrzeni wieków ten zestaw zmieniał się, a dawniej do symboliki święconych dóbr przywiązywano większą wagę niż obecnie. Dziś często nie pamiętamy, co dane produkty symbolizują, więc może przed zbliżającymi się świętami warto to sobie przypomnieć.
Wielkanocna święconka
Baranek - biały baranek z czerwoną chorągwią jest symbolem męki, śmierci i zmartwychwstania Chrystusa oraz sakramentu Eucharystii. To najważniejszy, liturgiczny symbol Wielkanocy i dlatego powinien się znaleźć w święconce, a następnie na świątecznym stole.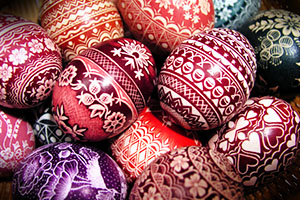 Jajko - symbol życia i odradzającej się na wiosnę przyrody. Zgodnie z polską tradycją jajka wielkanocne są pięknie ozdabiane: pisanki malowane są w rozmaite wzory woskiem za pomocą rysika, a następnie barwione, kraszanki natomiast barwione są poprzez gotowanie w odpowiednich barwnikach. Tradycja malowania jaj ma swój początek w starożytności i rozwijała się przez wieki. Kolory i wzory, w jakie malowano jajka, również miały swoją symbolikę. Żółty to radość i słońce, zieleń to nadzieja i przyroda rodząca się do życia. Jajko odgrywa najważniejszą rolę podczas niedzielnego śniadania, gdyż właśnie wtedy dzielimy się nim i życzymy sobie wszystkiego najlepszego. Dawniej spożywanie jaj podczas Wielkiego Postu było zakazane, a na zjedzenie ich czekało się aż do Świąt Wielkanocy. Z jajkiem związanych jest również wiele zabaw w Wielkanocny Poniedziałek, które mają przynieść pomyślność i dobrobyt.

Chleb - w wielu kulturach uznany za fundamentalny składnik żywienia. Tam gdzie chleb, tam bogactwo i pomyślność. W tradycji chrześcijańskiej jest też symbolem ciała Chrystusa.

Wędlina - dawniej należało wrzucić kawałek jakiejkolwiek wędliny, a od XIX wieku rozsmakowano się w kiełbasie. Wędlina jest symbolem dostatku, gdyż przez wieki nie każdego było stać na tego typu rarytas.

Chrzan - symbolizuje krzepę, zdrowie i siłę.

Sól - chleb i sól to dwa ważne symbole w tradycji chrześcijańskiej. Być solą ziemi to być życiodajnym składnikiem, który odżywia i decyduje o istnieniu. Sól jest nieocenionym minerałem, bez którego nasze organizmy nie mogłyby funkcjonować.
Stół wielkanocny
W Niedzielę Wielkanocną wszystkie te produkty znajdują się na pięknie ubranych stołach. Dawniej gospodynie przywiązywały wagę do najdrobniejszych szczegółów związanych z tradycja Świąt Wielkanocy. Królowała biel i przepięknie haftowane obrusy. Na środku stały wspaniale zdobione jajka i baranek, a wokół tych elementów skupiały się wszelkie smakołyki. Podstawą menu tych świat w Polsce są: jajka przyrządzane na wiele sposobów, baby wielkanocne, mazurki, pieczone mięsa, a do nich obowiązkowo chrzan, zaś w roli świątecznychzup występują żurek i biały barszcz.
Oprócz smakołyków i pisanek na wielkanocnym stole znajdują się również rozmaite dekoracje w postaci dzbanów pełnych bazi i wiosennych kwiatów. Obecnie nie przywiązujemy już tak dużej wagi do drobiazgowej oprawy świąt, ale w wielu domach obowiązkowe jest śniadanie wielkanocne, które czasami przeciąga się aż do wieczora... Dzieci bardzo lubią popularne w tym czasie czekoladowe zajączki lub jajeczka. Drugi dzień świąt to czas zabaw takich jak Śmigus Dyngus, podczas którego według tradycji na młodych dziewczynach nie mogła pozostać ani jedna sucha nitka, bo inaczej groziło im staropanieństwo. Dzisiaj ten zwyczaj nieco zmienił swój charakter i w poniedziałek lepiej nie wychodzić z domu, bowiem nie tylko panny wracają mokre od stóp do głów.
Potrawy wielkanocne
Święta Wielkanocne obchodzone są we wszystkich krajach o tradycji chrześcijańskiej. Jednakże tamtejsze potrawy na Wielkanoc, rodzaje mięs czy produkty różnią się od tych z tradycyjnej kuchni polskiej. W niektórych regionach w tym czasie spożywa się jagnięcinę - odpowiednik biblijnego baranka. Jako że są to święta wiosenne, do wielu potraw dodawane są pierwsze warzywa charakterystyczne dla danego kraju. W Polsce nowalijki również goszczą na wielkanocnym stole np. pod postacią sałatki jarzynowej czy jajek szczodrze obsypanych zielonym szczypiorkiem. We Francji tak jak i u nas popularne są pasztety. Podaje się też jajka przygotowane na wiele sposobów. np. w koszulkach ze szpinakiem - oeufs poches aux epinards. Na włoskich stołach pojawia się natomiast obowiązkowy makaron i lekkie sosy z dodatkiem warzyw. Często podaje się jajka po neapolitańsku - z pomidorami, oliwkami i filecikami anchois. W Hiszpanii serwowana jest tortilla i krem kataloński. Tortilla serwowana jest często z młodymi warzywami. W Hiszpanii nie znajdziemy jednej typowej potrawy wielkanocnej, a każdy region podchodzi odmiennie do kwestii kulinarnej. Większą wagę przywiązuje się tu do samych religijnych obchodów, którym towarzyszą procesje czczące śmierć i zmartwychwstanie Chrystusa. W Wielkiej Brytanii serwuje się pieczoną jagnięcinę, podawaną z sosem miętowym, pieczonymi ziemniakami i zielonym groszkiem. W Grecji, która niezwykle poważnie podchodzi do tych świąt, serwuje się tradycyjną zupę wielkanocną zwaną mayiritsa, przygotowywaną z jagnięcych podrobów, cytryn i koperku oraz chleb tsoureki, a w Wielkanocną Niedzielę obowiązkowe jest pieczenie barana.

Zobacz nasze PRZEPISY NA WIELKANOCNE POTRAWY