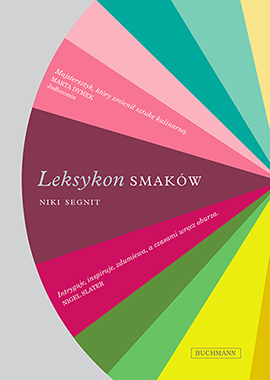 Leksykon smaków
Niki Segnit
Wydawca: Wydawnictwo Buchmann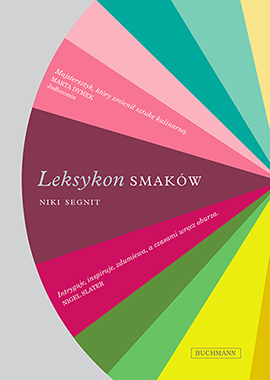 Książka ta, określana mianem arcydzieła i biblii smaków, została przetłumaczona na kilkanaście języków.
Z "Leksykonu smaków" dowiecie się tego, co w kuchni najważniejsze – jak łączyć ze sobą smaki. A to najistotniejsza i najsmaczniejsza kuchenna lekcja. Majstersztyk, który zmienił sztukę kulinarną.. Marta Dymek, Jadłonomia.
Czy zastanawialiście się kiedyś, dlaczego jedne produkty w połączeniu z innymi dają wspaniały efekt, a niektóre zestawienia smakują wręcz obrzydliwie? A może szukaliście sprawdzonego, lecz niebanalnego pomysłu na to, co zrobić na przykład z pękiem botwiny?
Niki Segnit w wyczerpujący sposób opisuje tradycyjne połączenia smaków, takie jak jabłko i wieprzowina, jagnięcina z morelami czy świeży ogórek z koperkiem, omawia połączenia mniej oczywiste, jednakże znane i lubiane (np. czekolada z chili, burak z serem kozim), ale sięga również po całkowicie niebanalne, czasem nawet ryzykowne zestawienia smaków: łączy wołowinę i cytrusy, grzyby z borówkami, ostrygi z arbuzem, a nawet kaszankę z czekoladą…
Rozmiar przedsięwzięcia jest imponujący. Autorka wybrała 99 produktów i podzieliła je na grupy wg tożsamości smaku – m.in. pieczony (czekolada, kawa, orzeszki ziemne), mięsny (kurczak, wieprzowina, wątroba), ziemisty (kumin, grzyby, buraki), morski (kawior, ostrygi, skorupiaki, białe ryby), leśny (orzechy laskowe, dynia piżmowa, kasztany). Następnie połączyła poszczególne składniki w pary i stworzyła własną smakową paletę, co przyniosło gigantyczną liczbę kombinacji (niemal 5 tysięcy – w książce opisanych jest blisko 1000).
Książka idealna do eksperymentowania w kuchni, ale sprawdzi się też jako smakowita lektura dla relaksu albo do poduszki – czytelnik znajdzie tutaj wiele informacji na temat historii i około kulinarnych ciekawostek.
Bez wątpienia małe arcydzieło – Sunday Times
Znakomity przewodnik łączenia smaków – Observer
Intryguje, inspiruje, zdumiewa, a czasami wręcz oburza. – Nigel Slater, Observer Books of the Year
Oryginalne i inspirujące źródło wiedzy o gotowaniu – Heston Blumenthal

Niki Segnit – dziennikarka z przeszło dwudziestoletnim doświadczeniem w branży FMCG, gdzie specjalizowała się w wymyślaniu nowych smaków i typów żywności (tzw. new brand, new product oraz new flavour development) w wielkich korporacjach; felietonistka The Times. Mieszka z mężem w Londynie.