Dynia - symbol i smakołyk
Produkty
Świecące w ciemności oczy, wycięte w pomarańczowej głowie, a do tego przerażający uśmiech, któż to taki? To Jack-o'-lantern, symbol Halloween, który pojawił się pierwotnie w Irlandii, a później zawędrował do USA. Głowa Jacka zrobiona jest z dyni - warzywa, które poza symbolicznym znaczeniem ma również wiele zalet użytkowych oraz kulinarnych.
Dynia jako symbol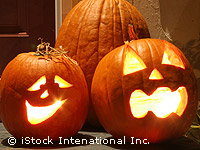 W Polsce obok tradycyjnego Święta Zmarłych, przyjęło się anglosaskie Halloween, które mimo, iż zupełnie odbiega od charakteru katolickiego kultu zmarłych, dość dobrze zadomowiło się w naszej kulturze. Wiele radości przysparza głównie najmłodszym. Wraz z Halloween pojawiły się u nas symbole oznaczające kontakt ze światem duchów, takie jak: latające czarownice, pająki czy trupie czaszki. Jednakże najbardziej charakterystyczna jest sama dynia. Stało się tak za sprawą staroirlandzkiej legendy opowiadającej o mężczyźnie imieniem Jack, który za swe skąpstwo - po śmierci nie poszedł do nieba, a że zadarł również z diabłem to nie chciano go także w piekle. Za karę Jack miał chodzić z lampionem po świecie aż do Dnia Sądu Ostatecznego. Symbolizująca właśnie skąpca Jacka - dynia, ma usunięty miąższ, wycięte w skórze otwory na oczy i usta oraz świeczkę umieszczoną w środku. Ustawiona w oknie dokładnie 31 października wita dusze przodków, chroni domy przed złymi duchami. Jest również znakiem dla dzieci, że w danym domostwie dostaną masę słodyczy.
Znanych jest wiele historii, w które wplątana jest dynia jako symbol. Niemalże każda cywilizacja czy to starożytna, czy bardziej współczesna, przypisywała temu warzywu rozmaite właściwości lecznicze i religijne. Dynia ma również wartość użytkową i oczywiście kulinarną. W starożytnej kulturze indiańskiej dynię wykorzystywano do produkcji rozmaitych przedmiotów codziennego użytku, np. mis i naczyń, a nawet rzeźb. Była ona także wartościowym źródłem pożywienia na równi z kukurydzą i fasolą. Dyni przypisywano właściwości boskie, gdyż w wielu kulturach Indian z obu Ameryk - dynie i wspomniane wyżej warzywa - powstały z ciał zmarłych bogów. Także biżuteria dawnych Indian wzorowana była na wyglądzie dyni i jej kwiatów.
Dynia jako smakołyk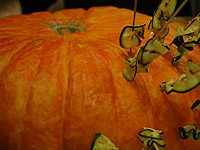 W Polsce sezon na dynię przypada na październik i listopad. W naszym regionie występują niestety tylko dwa główne gatunki: dynia olbrzymia Cucurbita maxima i dynia zwyczajna Cucurbita pepo. Do rodziny tej drugiej należy kabaczek oraz patison - często wykorzystywane w przepisach kulinarnych. Oprócz tego na świecie znane i uprawiane są jeszcze: dynia piżmowa i figolistna, jak również wiele ich podgatunków. Warzywo to trafiło do Europy z Nowego Świata i bardzo szybko przyjęło się w klimacie umiarkowanym. Do jego uprawy potrzebne jest jedynie dobrze nasłonecznione i wilgotne miejsce. Przybiera rozmaite kształty i rozmiary. Owoce dyni olbrzymiej mogą osiągnąć wagę nawet do 50 kg. Dynia jest niezwykle ceniona ze względu na swoje właściwości odżywcze. Jej pestki to bogactwo nienasyconych kwasów tłuszczowych oraz witamin z grupy B i C. Dlatego też warzywo to zostało docenione przez sztukę kulinarną, a z jego miąższu można przyrządzać przeróżne potrawy. Hindusi np. przygotują wspaniałą zupę z dyni piżmowej z dodatkiem mleka kokosowego. Dynia doskonale nadaje się do marynowania. Chętnie dodaje się ją do ciast, a pestki dyni dodawane są też do pieczywa czy słodkich ciasteczek. Dynia to wdzięczny temat kulinarny, gdyż jest bardzo trwała - można przechowywać ją nawet kilka miesięcy. Nadaje się również do gotowania i mrożenia. Sezon na dynie - w pełni! Wykorzystajmy, więc ten fakt jak najlepiej i delektujmy się jej smakiem.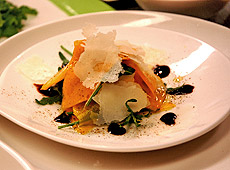 Oto kilka przepisów z wykorzystaniem dyni: