Kuchnia indyjska - Indie Wschodnie
Kuchnie świata
Wschodnie Indie to region najrzadziej odwiedzany przez turystów. Najbardziej znane metropolia to Kalkuta - stolica Bengalu Zachodniego, położona w dolinie rzeki Ganges. Rzeka ta wedle starych induskich wierzeń uznanawana jest jako święta. Ganges nazywany jest rzeką niebiańską i przepływała przez hinduski raj. Kolejnym niezwykle wielkim miastem położonym nad dopływem Gangesu jest Sonepur. Można tam wziąć udział w corocznym mela, czyli jarmarku na którym m.in. odbywa się handel słoniami. Za najświętsze miejsce hinduizmu uważa się Waranasi, w którym tysiące wiernych bierze kąpiel w Gangesie, aby poczuć łączność z swymi bogami. W tej rzece chowa się również zmarłych ludzi i zwierzęta.
Kulinarne zamiłowania Hindusów ze wschodu nie różnią się bardzo od gustów ich krajanów z południa czy zachodu. W stanach umiejscowionych bliżej Zatoki Bengalskiej, a w szczególności w Bengalu Zachodnim, spożywa się ryby morskie i owoce morza. Chętnie spożywane są tu również ryby słodkowodne, z których przyrządza się niezwykle pikantne curry zwane dźhal.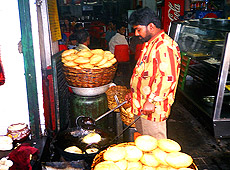 Generalnie na wschodzie tak jak i w innych częściach Indii bazuje się na daniach wegetariańskich przyrządzonych z dodatkiem masali. Wśród głównych składników potraw dominują tu warzywa, mleko i ryż. Przyprawy wykorzystywane w tej kuchni praktycznie niczym się nie różnią od tych używanych w innych rejonach Indii. Chętnie używa się chili, imbir, czosnek, kolendrę, gorczycę. Z tej ostatniej wyrabia się olej gorczycowy, używany do wielu potraw. Jest on niezwykle pikantny i wspaniale dopełnia smak hinduskich dań. Natomiast przyprawą charakterystyczną dla tej części Indii są nasiona cebuli – kalwanji.
W Indiach wschodnich podobnie jak na północy spożywa się wiele napoju lassi. Słynnym daniem z tej części kraju (a dokładnie ze stanu Orissa położonego nad Zatoką Bengalska) jest Jadgish saag alu na bazie ziemniaków, chilli i szpinaku. Dużo potraw serwowanych jest w towarzystwie gotowanej i pikantnie doprawionej soczewicy dhal bądź dal, ale i ta potrawa znana jest w innych częściach kraju, chociażby na zachodnim wybrzeżu.