Pszczoły zagrożone wyginięciem
zjawiska
Pszczoły są obecne w życiu człowieka od tysięcy lat. W mitologiach kultur basenu Morza Śródziemnego utożsamiano je z bogami i boginiami. Królowie Egiptu nosili przydomki związane z pszczołami, a w wierzeniach sumeryjskich bogini zbóż Asznan przedstawiana była jako pszczoła przynosząca urodzaj. Miód był symbolem bogactwa i dostatku zarówno w starożytności, jak i w czasach nowożytnych. Jednak produkcja miodu to tylko jedno z wielu pożytecznych zadań pszczoły miodnej. Pszczoły odpowiadają głównie za zapylanie roślin jadalnych, w tym warzyw i owoców, które są ważnym elementem pożywienia zarówno ludzi, jak i zwierząt. Niestety w ostatnich latach zauważono masowe wymieranie pszczół. Przyczyn tego niepokojącego zjawiska jest wiele. Dokument pt. Zagadka znikających pszczół emitowany na antenie Kuchni.tv próbuje je zbadać i wyjaśnić.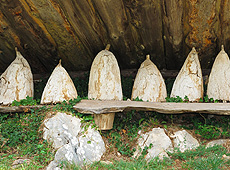 Podstawy pszczelarstwa najprawdopodobniej powstały w starożytnym Egipcie. Tam też znano pierwsze sposoby na pozyskiwanie miodu od dzikich pszczół. Z czasem również inne ludy, jak chociażby te zamieszkujące Bliski Wschód, Grecję i Imperium Rzymskie, nauczyły się hodować pszczoły i tworzyć własne systemy zbierania miodu. W starożytnej Grecji budowano ule przenośne, aby móc stawiać je tam, gdzie akurat kwitła roślinność. Wszystko po to, aby móc pozyskać najcenniejszy składnik produkowany przez pszczoły, czyli miód. Przez wieki był on podstawowym środkiem słodzącym. Wielcy uczeni, m.in. Hipokrates, odkryli jego właściwości lecznicze i bakteriobójcze. Szereg kosmetyków również bazowało na tym cennym składniku. Miał on dodawać urody i spowalniać proces starzenia. Z produkcji miodu słynęła również dawna Polska, szczególnie znana z produkcji alkoholizowanych miodów pitnych. Naturalnym środowiskiem pszczoły miodnej w Polsce pierwotnie były lasy. Pszczoły zapylały rośliny występujące w tym środowisku, podtrzymując bioróżnorodność i zapewniając stabilność ekosystemu. Wraz z powstawianiem terenów uprawnych - ta sytuacja oczywiście miała miejsce na całym świcie - pszczoły zaczęły się przystosowywać do nowych środowisk lub były udomawiane przez bartników. Miód nadal jest głównym składnikiem pozyskiwanym od pszczół. Do tego dochodzą jeszcze inne produkty wykorzystywane obecnie w przemyśle spożywczym, kosmetycznym i farmaceutycznym, takie jak: pyłek kwiatowy, propolis, mleczko pszczele czy wosk pszczeli. Jednak od pszczół zależy znacznie więcej - produkcja miodu to tylko część ich ciężkiej pracy. Szacuje się, że 1/3 żywności powstaje dzięki zapylaniu roślin właśnie przez te owady - głównie warzyw, owoców i kwiatów łąkowych, które są ważnym elementem pożywienia zwierząt i ludzi.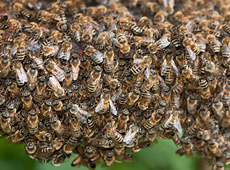 Od lat 90. pszczelarze na świecie obserwują bardzo niepokojące zjawisko, które może być tragiczne w skutkach dla całego ekosystemu. Chodzi o tajemnicze wymieranie i znikanie pszczół. Zjawisko to nosi nazwę Colony Collapse Disorder (CCD) i dotyczy głównie pszczoły miodnej - Apis mellifera, która ze wszystkich gatunków pszczół jest najbardziej ekspansywna i zaliczana jest do gatunków udomowionych. Dzikie pszczoły są bardziej odporne, a tę odporność wykształciły sobie same, bez żadnej ingerencji człowieka. Kolonie pszczoły miodnej, jak pokazały badania, są najbardziej narażone na wymieranie. Drastyczny skok śmiertelności został odnotowany w latach 2006 – 2007 w Ameryce Północnej, gdzie wyginęła nagle 1/3 pszczół. W Chinach natomiast zniknęło aż 100% populacji. W Europie od kilku lat zjawisko nasila się, a naukowcy oraz organizacje ekologiczne biją na alarm. W 2008 roku w Niemczech, w Badenii-Wirtembergii podczas siewu roślin pokrytych zaprawą owadobójczą Poncho Pro, zawierającą substancję aktywną chlotianidynę, zginęło 11 i pół tysiąca kolonii, czyli około 300 milionów pszczół. Tego typu sytuacje miały miejsce również we Francji.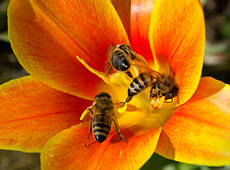 W wyniku obserwacji pszczelarzy i badań specjalistów w dziedzinie pszczelnictwa powstało wiele teorii, które w jakiś sposób próbują wytłumaczyć dlaczego pszczoły giną masowo. Oto kilka z nich:
bakterie, wirusy, pasożyty – jeden z najbardziej niebezpiecznych to warroza, a także grzyby np. Nosema cerenae, który atakuje pszczoły jednocześnie z infekcjami wirusowymi
pestycydy takie jak neonikotynoidy, które stosowane są w środkach zabezpieczających uprawy. Stwierdzono, że nawet ich niewielkie użycie powoduje u pszczół dezorientację, utratę pamięci lub śmiertelne zatrucie
import przez pszczelarzy pszczół, zwłaszcza królowych matek, które wyhodowane w innych warunkach nie są w stanie zaklimatyzować w nowym środowisku
zła gospodarka rolna, przykładem mogą być Stany Zjednoczone, gdzie do zapylenia jednego ogromnego obszaru roślin, używa się pszczół transportowanych np. z całego stanu. Prognozy mówią, że w przyszłości, która rysuje się w dość czarnych barwach, jeśli pszczoły nadal będą ginąć masowo, jeden teren będą zapylać pszczoły sprowadzane z całego kraju
brak pożywienia i utrata naturalnych siedlisk - powodem są rolnictwo masowe i przemysłowe, a także rozrost miast
brak bioróżnorodności oraz wielkie, monokulturowe obszary rolnicze, często obficie wspomagane chemią i pestycydami. Powodują one duże zagrożenie i niszczenie pożywienia pszczół, czyli roślin miodo i pyłkodajnych
jedna z teorii mówi także o dezorientacji u pszczół wywoływanej przez fale elektromagnetyczne emitowane przez telefonię komórkową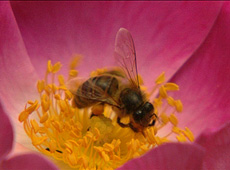 W dokumencie Zagadka znikających pszczół przedstawiono wizję globalnej ekologicznej katastrofy, która może nastąpić jeśli wyginą wszystkie pszczoły. Zbieranie materiałów do dokumentu zajęło twórcom aż 18 miesięcy. W celu zgłębienia problemu znikania pszczół autorzy odwiedzili Francję, Niemcy, Stany Zjednoczone, Kanadę oraz Szkocję. Przeanalizowali również wiele teorii stworzonych przez naukowców i ekspertów w tej dziedzinie. Nikt jednak nie jest w stanie dokładnie stwierdzić, co powoduje masowe wymieranie owadów. Bez względu na rodzaj pasiek i nakłady finansowe, hodowcy pszczół na całym świecie w równym stopniu borykają się ze skutkami CCD. Nadal nie wiadomo, czy za redukcję populacji pszczół jest odpowiedzialny człowiek i jego ekspansywne eksploatowanie zasobów ziemi, czy też jest to proces samoistny. Czy naprawdę nie jesteśmy w stanie temu zaradzić?
Źródła: