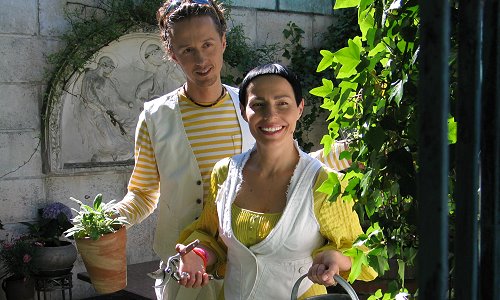 ---
magazyn kulinarny, Polska, 2009, 6 x 8
''Słoneczne ATELIER SMAKU'' to seria nowych letnich odcinków wegetariańskiego programu Joli Słomy i Mirka Trymbulaka przepełniona słońcem i zapachami Indii, a także zielenią i kwiatami polskich łąk, ogrodów i ogródków.
Autorzy zapraszają na wycieczki nad morze i na Kaszuby, gdzie przygotowują ciekawe, kolorowe i szybkie potrawy z tego, co rośnie w szklarni, a nawet na trawniku. Jak oswoić pokrzywę, jak zrobić konfiturę z tataraku i gdzie znaleźć dziko rosnącą rukolę, a także, co wegetarianin może upiec na grillu, to tylko niektóre z rzeczy, których dowiemy się w ''Słonecznym ATELIER SMAKU''.

Gospodarzami są Jola Słoma i Mirek Trymbulak, wegetarianie, projektanci mody, autorzy dwóch książek "Nakarmić duszę" i "Ubrać duszę".

''ATELIER SMAKU'' jest zarejestrowanym znakiem towarowym R-218208


Dołącz do CANAL+ i oglądaj
jak chcesz i kiedy chcesz!
Inne programy prowadzącego