Lodowe szaleństwo
Produkty
Lody serwowano już w starożytności. Obecnie są najpopularniejszym deserem, a kompozycje lodowe i ich smaki mnożą się w nieskończoność. Szczególnie latem ten zimny smakołyk cieszy się powodzeniem, a kawiarnie i budki z lodami są oblegane przez masy łakomczuchów, przede wszystkim dzieci.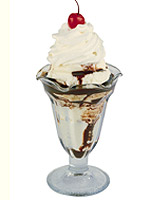 Nazwa - deser lodowy - obecnie przypisywana jest wielu deserom podawanym w formie zmrożonej lub lekko zmrożonej. Nie są to jednak tylko śmietankowe gałki o rozmaitych smakach, ale również sorbety, owocowe granity, ciasta podawane z lodami, lody owocowe lub mrożone jogurty. Podsumowując nazwa "lody" przypisana jest wszelkiego typu deserom z dużą zawartością tłuszczu mlekowego, a także z jajami, dodatkami zapachowymi, syropami lub sokami owocowymi. Zarówno smaki jak i formy, które przybierają lody są niezliczone. Mamy smaki tradycyjne: lody śmietankowe, waniliowe, orzechowe, bakaliowe czy czekoladowe. Niemniej jednak przemysł lodziarski posuwa się nieco dalej i serwuje coraz to nowsze, czasami wręcz niewyobrażalne smaki, bo czy można sobie wyobrazić lody o smaku czosnkowym?! Jednak można. Włosi już wprowadzili takie na swój rynek, a Polacy najwyraźniej podążają ich śladem. Do nietypowych smaków zaliczyć można również lody marchewkowe, pomidorowe, serowe czy pieprzowe. Te niecodzienne połączenia smakowe są możliwe dzięki coraz to nowszym technologiom, np. przez wykorzystanie ciekłego azotu do zamrożenia smaków, które ciężko jest uchwycić tradycyjnymi metodami. Jednak współczesne rodzaje lodów nie powstałby bez praojców tego wspaniałego, zimnego deseru i całej historii jego tworzenia.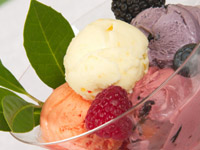 Początki deseru lodowego sięgają starożytności. Już wtedy wynaleziono podziemne lub skalne chłodnie, aby móc przechowywać zmrożony deser, który początkowo miał formę zwykłego śniegu. Tak właśnie było w starożytnych Chinach, Persji, Mezopotamii, Grecji czy Rzymie. Chińczycy uważani są za wynalazców lodów. Ich metodą na poprawienie smaku zwykłego śniegu było dodawanie do niego cukru lub innych słodkich substancji. Grecy natomiast serwowali rożki wypełnione śniegiem i polane miodem. W starożytnej Mezopotamii istniały już pierwsze chłodnie, gdzie składowano lód. W starożytnym Rzymie, cesarz Neron kazał sprowadzać lód z gór, który następnie podawano z owocami. Persowie tworząc swoje "pomieszczenia chłodnicze" byli w stanie przechować lód przetransportowany z gór lub zachowany z zimy aż do lata, a prawdziwym rarytasem serwowanym na perskim dworze był chłodzony pudding sporządzony z wody różanej.
W nowożytnej Europie lody pojawiły za sprawą słynnego podróżnika - Marco Polo, który podczas swoich wypraw do Chin poznał metodę i sposób tworzenia tego wspaniałego deseru. Lody natychmiast pojawiły się na dworze włoskim, a później, jak głosi legenda, za sprawą Katarzyny Medycejskiej poślubionej Henrykowi II zawędrowały do Francji. Niestety nie ma wiarygodnych źródeł na ten temat. Wiadomo jednak, że lody najbardziej zbliżone konsystencją do wytwarzanych obecnie, zaczęły być produkowane na przełomie XV i XVI wieku we Włoszech, a ojcem nowoczesnej technologii produkcji lodów był Bernardo Buontalenti. Zaserwował on podobno mrożony deser na jednym z wystawnych przyjęć organizowanych we Florencji przez ród Medicich. Kolejnym Włochem, który zasłynął w Europie z produkcji zimnych lodowych deserów był Francesco Procopio dei Cotelli. W XVII w otworzył w Paryżu kawiarnię ze sowimi specjałami i w ten sposób rozsławił ten deser.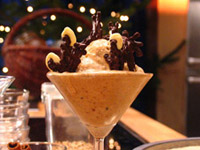 Początkowo lody były towarem deficytowym, zamawianym na specjalne okazje i jedynie bogaci mogli sobie na ten przysmak pozwolić. Zazwyczaj serwowano je na dworach królewskich. Przez kilka stuleci produkcja lodów zależała od dostaw lodu zbieranego z zamarzniętych po zimie stawów czy jezior. Następnie tafle lodu, po wcześniejszym okryciu słomą, przechowywano w lodowych studniach. Jeszcze w latach 50. XX. wieku, w Polsce spółdzielnie mleczarskie zbierały lód w ten właśnie sposób i wykorzystywały go przy produkcji lodowych smakołyków. Głównym problemem w przechowywaniu lodów był brak... lodówek. Przełom nastąpił za sprawą Niemca - Carla von Linde, który w 1876 roku wynalazł chłodziarkę. Mniej więcej od tego czasu do masy lodowej zaczęto dodawać jaja i mleko, przez co masa lodowa stawała się bardziej spójna i aksamitna. Około 1930 roku zaczęła się produkcja lodów na szeroką skalę. W drugiej połowie XX wieku maszyny do ich produkcji były już udoskonalone i tańsze, dlatego też nasz ulubiony deser zyskał na popularności i stał się dostępny dla niemal wszystkich.
Obecnie wiele krajów szczyci się wynalezionym właśnie przez siebie deserem lodowym. Na prowadzenie w produkcji lodowych przysmaków zdecydowanie wysuwają się Włosi, a włoskie gelaterie prześcigają się w smakach i kompozycjach lodowych. Oprócz lodów popularne są tu też granity - mocno zmrożone soki owocowe. Należy dodać, że największymi producentami maszyn do lodów są również firmy włoskie. Stany Zjednoczone, gdzie przemysł lodziarski rozwijał się od XVIII wieku również mają się czym pochwalić - tam właśnie powstało tzw. lodowe sundae, czyli bardzo kobiecy deser lodowy z jedną kulką lodów zanurzoną w różnych polewach lub syropach z dodatkiem bitej śmietany lub likieru. Deser zazwyczaj zwieńczony jest kandyzowaną wisienką. Francuzi z kolei specjalizują się w lodowych sorbetach, a popisowym deserem jest sorbet lodowy z dodatkiem słynnego likieru z czarnych porzeczek - Cassis.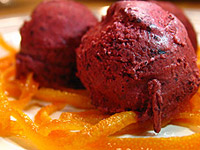 Na antenie i w serwisie Kuchni+ nasze kulinarne gwiazdy serwują wiele deserów z wykorzystaniem lodów oraz uczą, jak samemu w domowych warunkach sporządzić ten smakołyk.
Oto nasze propozycje:
Domowe lody truskawkowe z rurkami
Deser lodowy bombe glacee
Lody chałwowe na prażonym ciastku
Tort lodowy
Lody truskawkowe
Parfait piernikowe
Domowe lody