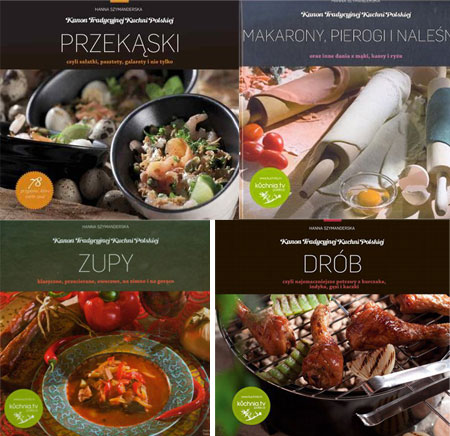 Kanon Tradycyjnej Kuchni Polskiej to seria 15 książek autorstwa Hanny Szymanderskiej. 5 pierwszych części wydanych nakładem MULTICO Oficyny Wydawniczej – dostępnych jest już od listopada 2010 r. Kolejne części ukażą się w 2011 r. Kanon tradycyjnej kuchni polskiej to pięknie ilustrowana seria książek z najlepszymi, najbardziej charakterystycznymi i sprawdzonymi przepisami polskiej kuchni tradycyjnej, rekomendowanymi przez Hannę Szymanderską.
Niektóre świetnie znane, inne – nieco zapomniane. Warto je sobie przypomnieć i przekonać się, jak bogata jest nasza kuchnia narodowa. Seria 5 książek zawiera: "Przekąski, czyli pasztety, galarety, sałatki i nie tylko", "Zupy, tradycyjne, przecierane, owocowe, na zimno i na gorąco", "Makarony, pierogi i naleśniki oraz inne dania z mąki, kaszy i ryżu", "Jajka i sery, czyli najlepsze omlety, zapiekanki, sałatki", "Warzywa, czyli sprawdzone przepisy na ziemniaki, kapustę, pomidory i wiele innych".
Nota o autorze:
Hanna Szymanderska - Najbardziej znana w Polsce autorka książek kulinarnych. Gotowaniem zainteresowała się w roku 1967, tuż po ślubie. Jej pierwsza książka pt. "200 potraw z warzyw" ukazała się w 1979 r. W 1982 r. pisarka zaczęła pisać na zamówienie felietony kulinarne, łącząc przepisy z krótkimi notatkami historycznymi. Wkrótce anegdoty, ciekawostki i cytaty z literatury, często trudno dostępnej lub zapomnianej, stały się znakiem rozpoznawczych jej książek. Do tej pory Hanna Szymanderska opublikowała kilkadziesiąt tytułów poświęconych głównie tradycyjnej kuchni polskiej. Jej przepisy ukazywały się na łamach wielu gazet, m.in. "Poradnika domowego", "Mojego gotowania" i "Kobiety i życia".