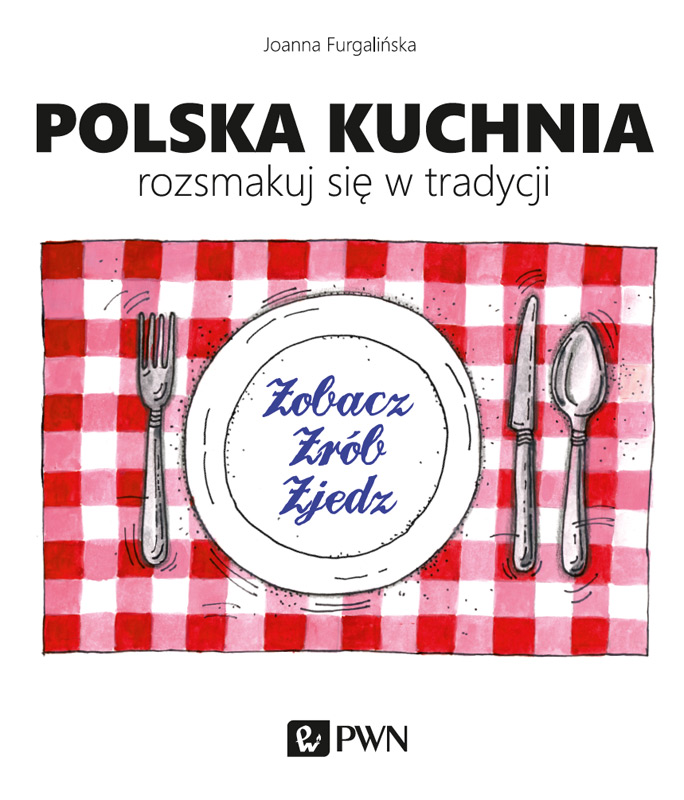 Polska kuchnia. Rozsmakuj się w tradycji
Joanna Furgalińska
Wydawca: Wydawnictwo Naukowe PWN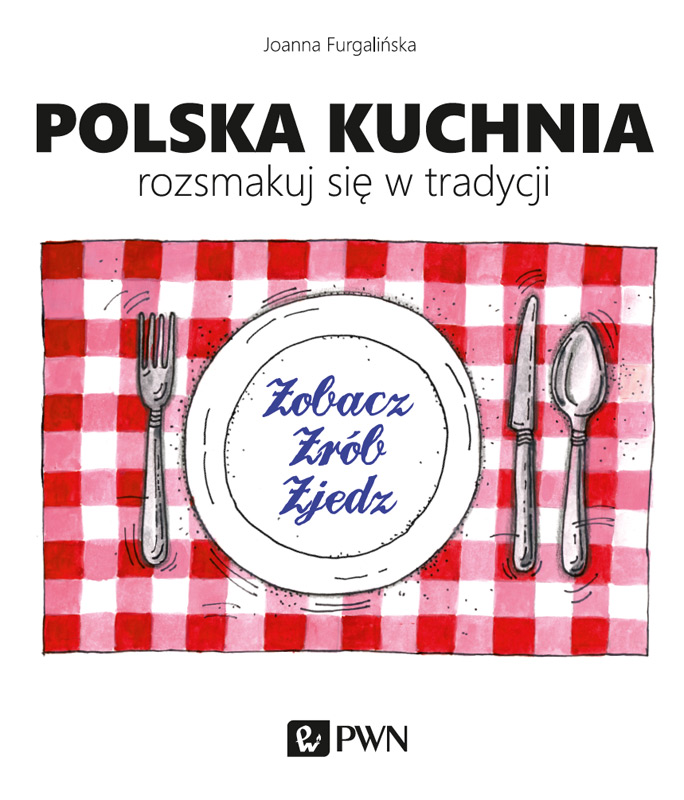 W ulicznej sondzie, przeprowadzonej w jednym z polskich miast, zapytani o typowe polskie dania młodzi ludzie najczęściej wymieniali pizzę, frytki, kebab i spaghetti. Najwyraźniej
w pogoni za kulinarnymi modami zapomnieliśmy o naszej wielowiekowej tradycji. A przecież niepowtarzalna polska kuchnia, która do rodzimego rdzenia dodała wpływy niemieckie, rosyjskie, czeskie, węgierskie, litewskie, tatarsko-tureckie, orientalne, włoskie, francuskie, skandynawskie, austriackie i żydowskie, jest jedną z najciekawszych na świecie!
"Polska kuchnia. Rozsmakuj się w tradycji" Wydawnictwa Naukowego PWN to powrót
do smaków z dzieciństwa. W elegancko wydanej książce autorstwa Joanny Furgalińskiej znajdują się przepisy na tradycyjne potrawy polskie, które pamiętamy z domu naszych rodziców lub dziadków, ale których dziś sami często nie umiemy przygotować, np. krupnik, leniwe pierogi, ogórki kiszone, rydze smażone czy ciasteczka ze skwarek. Przepisy są zebrane w kilku tematycznych rozdziałach: zupy, potrawy z mąki i ziemniaków, potrawy mięsne, dania z ryb, warzywa, smakołyki, dodatki i napoje. Na końcu książki zamieszczony został alfabetyczny indeks przepisów oraz miary i wagi. Całość bogato i dowcipnie ilustrowana przez Autorkę, na wzór wydanej w 2015 roku książki "Ślónsko kuchnia dla Hanysów i Goroli".
"Polska kuchnia. Rozsmakuj się w tradycji" to ilustrowany elementarz polskich potraw domowych. Po to, byśmy nie zapomnieli, jak ukisić żur, przyrządzić gołąbki, bigos, czy pasztet
z zająca. Kultywujmy naszą kuchnię. Bądźmy dumni z naszego dziedzictwa. Rozsmakujmy się
w tradycji. To nie jest trudne. Zobaczcie. Zróbcie. Zjedzcie."
Z przedmowy autorki
O autorze:
Joanna Furgalińska – absolwentka Katowickiego Wydziału Grafiki Akademii Sztuk Pięknych w Krakowie. Specjalizuje się w litografii barwnej, ilustracji książkowej i malarstwie. Miała wiele wystaw indywidualnych, między innymi dwukrotnie w Ottawie (grafika), dwukrotnie w Amsterdamie (grafika) i wielu innych miejscach. Jest autorką ilustracji do kilkudziesięciu książek. Wydała kilka autorskich książek dla dzieci. Jest także autorką pozycji "Ślónsko godka – ilustrowany słownik dla Hanysów i Goroli" oraz książki kulinarnej "Ślónsko kuchnia. Dla Hanysów i Goroli". Prace autorki znajdują się w zbiorach muzealnych w kraju oraz
w kolekcjach prywatnych w kraju i za granicą.